Almost half of users report pandemic-driven changes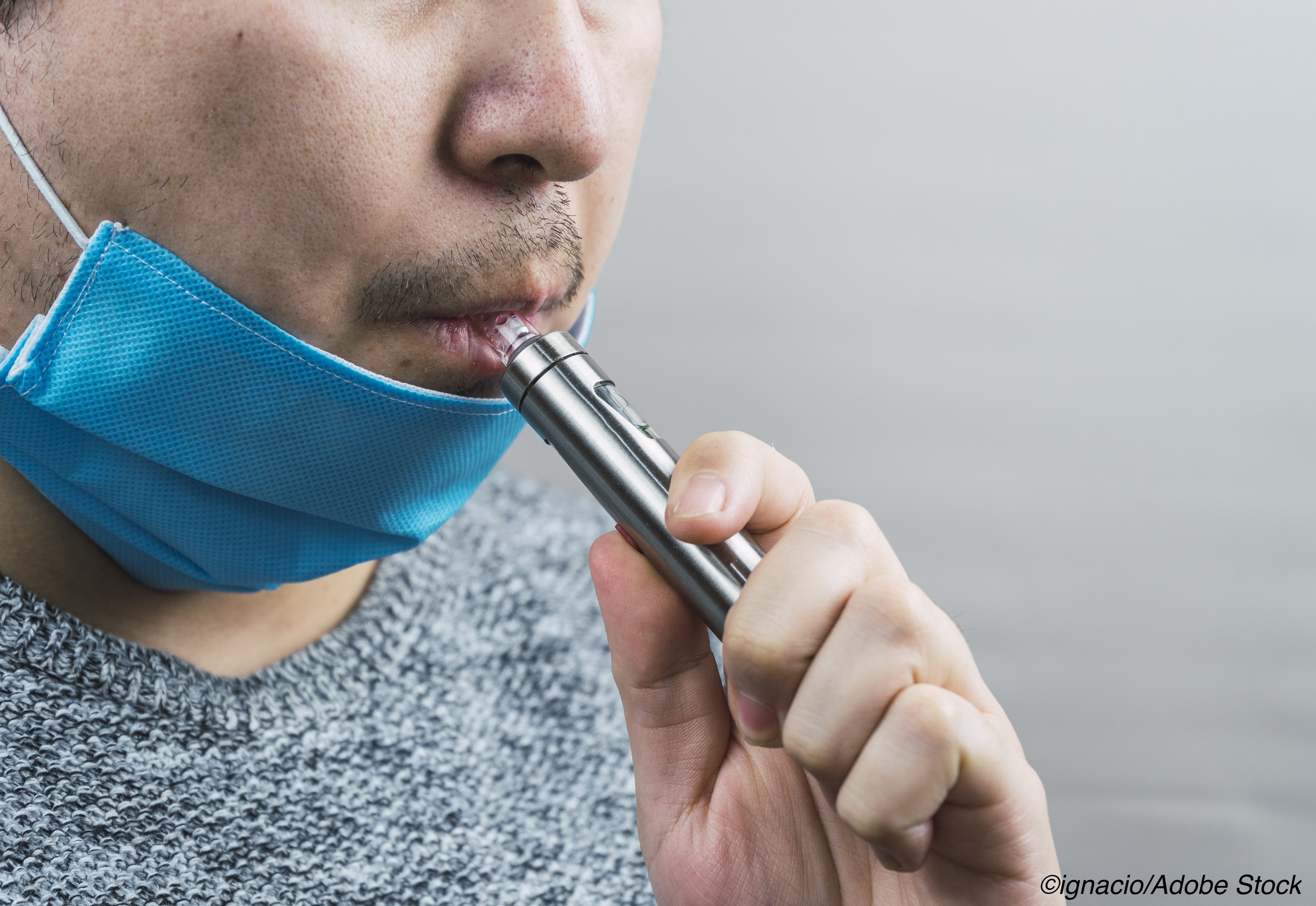 The Covid-19 pandemic appears to have changed how teens and young adults purchase and use e-cigarettes, according to researchers.
A national cross-sectional survey study found more than half of kids and young adults reported changing the frequency of their e-cigarette use, with most of them reducing or eliminating e-cigarette use altogether.
At the same time, Shivani Mathur Gaiha, PhD, Division of Adolescent Medicine, Department of Pediatrics Stanford University, Palo Alto, California, and colleagues found that individuals younger than 21 years were reporting e-cigarette use and were buying e-cigarettes from online sources, as well as retail stores.
This suggests, wrote Gaiha and his colleagues, "a need to strengthen prevention of e-cigarette sales to such youth, including age verification, and provide cessation resources."
The study was published in JAMA Network Open.
The authors noted that increasingly high rates of e-cigarette use among adolescent and young adults have been reported over the last several years. In addition, they pointed out that e-cigarette use has been found to weaken the respiratory and immune system — an important consideration as the ongoing Covid-19 pandemic continues to put individuals at risk.
"To our knowledge, there have been no population-based studies assessing and characterizing e-cigarette access and use among underage youth and young adults before and during the Covid-19 pandemic," wrote Gaiha and colleagues. "Understanding such patterns and shifts may inform the development of timely and age-appropriate public health messaging and provide insights on policy levers for long-term prevention of underage access to and use of e-cigarettes."
Their survey was completed by 4,351 participants, 2,167 of whom were e-cigarette users. Among the e-cigarette users, 1,442 were younger than 21 years, and 64.5% were female. The main outcomes of the study included change in e-cigarette use, access to e-cigarettes before and after the Covid-19 pandemic began, and the reasons for changes.
Gaiha and colleagues found that since the Covid-19 pandemic began, 56.4% changed their use, with 32.4% quitting, 35.3% reducing the amount of nicotine, 17.6% increasing nicotine use, 7.8% increasing cannabis use, and 6.9% switching to other products.
For those who reduced their use, the most common reasons given were:
Belief that e-cigarettes may weaken their lungs (25.0%).
Worry that parents would find out that they were using e-cigarettes (15.2%).
Difficulty purchasing e-cigarettes (19.5%).
And, among those who increased their use, respondents attributed the change to a number of reasons, including stress, boredom, and a need for distraction.
Survey participants also reported that they found it more difficult to get access to e-cigarettes with the onset of the pandemic because they were unable to go to a grocery store or gas station (28.7%) or vape shop (19.4%), and that there were longer shipping times (21.2%).
Access to e-cigarettes changed during the Covid-19 pandemic for 39.8%-44.5% of e-cigarette users. Depending on the product, 18.1% to 23.7% switched to alternative retail locations, 18.2% to 19.8% switched their point-of-purchase from retail to online stores, and approximately 2% switched from online to retail stores.
Underage youth who answered the question reported that they accessed e-cigarette deliveries from vape shops and/or dealers or friends who received such deliveries — 27.5% self-reported accessing e-cigarettes without age verification. This suggests that vape shops and online platforms are routinely selling to underage youth during this pandemic, the authors wrote, "despite some e-cigarette companies indicating that they have enhanced their online age-verification methods to prevent youth access."
"These findings underscore the need to effectively verify age online and in person," they emphasized, adding that there is a need to provide cessation resources, as well.
In a commentary accompanying the study, Andrew C. Stokes, PhD, School of Public Health, Boston University, Boston, Massachusetts, wrote that optimism regarding the decline in e-cigarette use found by Gaiha and colleagues could be lessened by the possibility that decline could be reversed once the Covid-19 pandemic has passed. However, Stokes suggested the study highlights ways in which that can be avoided.
This could be accomplished, he said, with the dissemination of information regarding the harms of vaping on social media and other information sources, the imposition of stronger safeguards on underage use, and stronger efforts to establish addiction services for youths struggling with nicotine addiction.
"Together, these measures may go a long way toward ensuring that the declines in e-cigarette use observed during the Covid-19 pandemic are maintained into the future," he wrote.
The Covid-19 pandemic has resulted in changes in the way kids and young adults use and access e-cigarettes.

More than half of survey respondents reported changing the frequency of their e-cigarette use, while underage users continue to access these produces both online and in retail operations.
Michael Bassett, Contributing Writer, BreakingMED™
Stokes reported receiving a grant from Ethicon outside the submitted work.
Cat ID: 489
Topic ID: 89,489,138,139,142,143,192,151,489,925