Similar efficacy seen in older study participants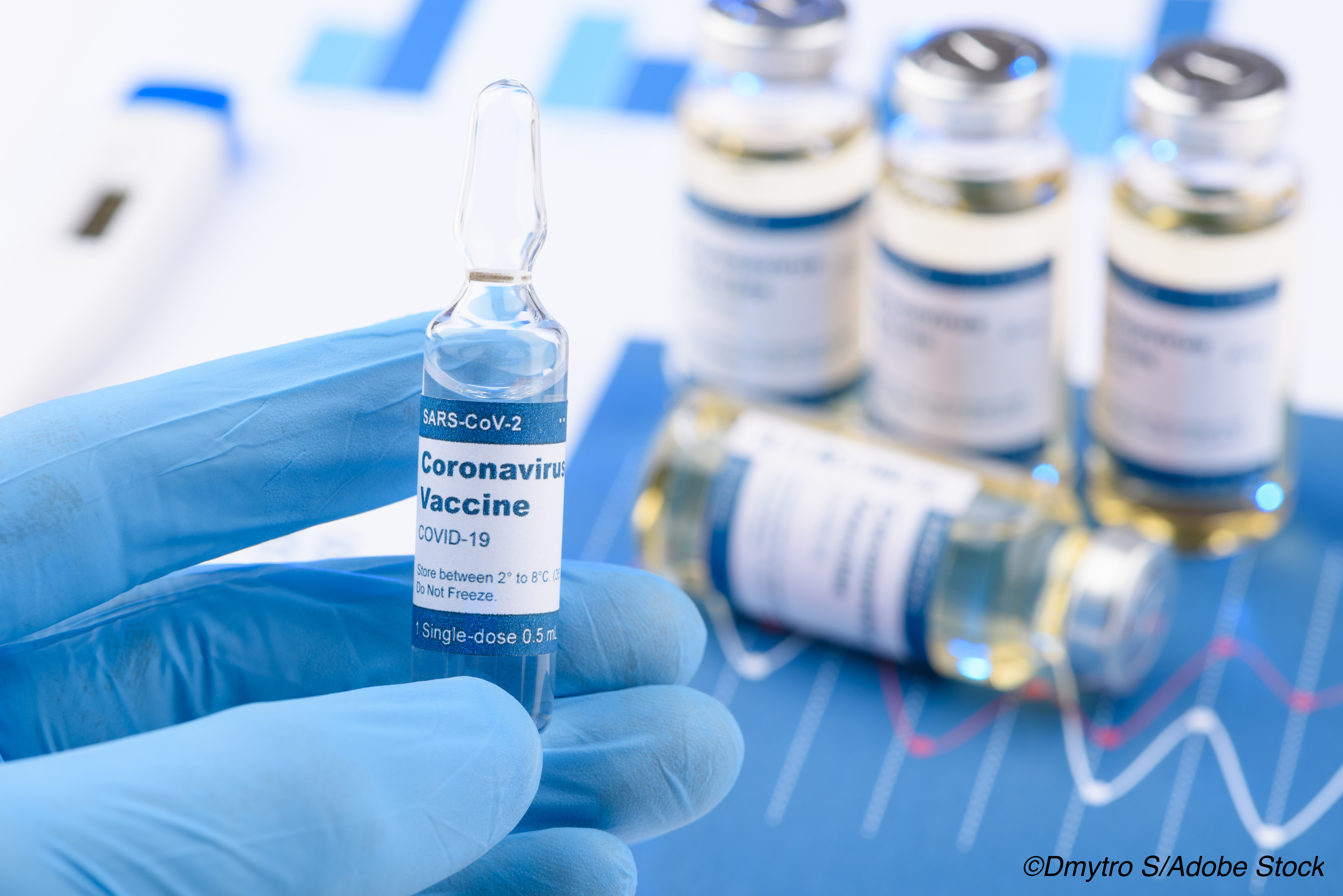 Peer-reviewed findings from the COVE trial showed the Moderna mRNA-1273 vaccine to have 94.1% efficacy for preventing Covid-19, with efficacy of 86.4% reported in older (≥65 years) study participants.
No significant safety concerns were reported among recipients of the mRNA-1273 vaccine at a median of 2 months follow-up.
The trial included 30,420 participants randomized to receive two doses of the mRNA vaccine (100 μg each) or placebo, and more than 96% of study participants received both doses. The COVE study findings were reported in the New England Journal of Medicine.
The U.S. Food and Drug Administration approved the Moderna mRNA vaccine for emergency use in mid-December, based on the better-than-expected findings from the large clinical trial. The approval came just days after Pfizer-BioNTech's mRNA vaccine became the first Covid-19 vaccine to be granted emergency use authorization (EUA) status.
On Jan. 3, it was announced that the government is considering authorizing use of half doses of the Moderna vaccine in an effort to speed vaccinations in the U.S.
Speaking on the Sunday-morning news program "Face the Nation," the head of the federal government's Covid-19 vaccine program Operation Warp Speed, Moncef Slaoui, said the FDA is in talks with Moderna about the dosage change because the half dose has been shown to induce identical immune response to the full dose.
"We know that for the Moderna vaccine, giving half of the dose to people between the ages of 18 and 55, two doses, half the dose, which means exactly achieving the objective of immunizing double the number of people with the doses we have," Slaoui said.
The phase III COVE trial included people at high risk for SARS-CoV-2 infection or complications from Covid-19 randomly assigned 1:1 to receive the two 100 μg doses of the mRNA vaccine or placebo, 28 days apart.
The primary study endpoint was prevention of Covid-19 illness with onset at least 14 days after the second injection in study participants who had not previously been infected with SARS-CoV-2.
A total of 2.2% of participants had serologic and/or virologic evidence of SARS-CoV-2 infection at baseline.
Among the main findings from the study:
Symptomatic Covid-19 was confirmed in 185 people who received the placebo shots (56.5 per 1,000 person-years; 95% CI, 48.7-65.3) and 11 people who received the mRNA vaccine (3.3 per 1,000 person-years; 95% CI, 1.7-6.0).
Overall vaccine efficacy was 94.1% (95% CI, 89.3 to 96.8%; P<0.001), and efficacy was similar across secondary analyses including assessment 14 days after the first dose and analyses that included participants with baseline evidence of SARS-CoV-2 infection.
Thirty study participants developed severe Covid-19, and all of these were in the placebo group. One death attributed to Covid-19 was reported.
Similar levels of vaccine efficacy were reported across all age groups.
"Overall, the safety of the mRNA-1273 vaccine regiment and platform is reassuring; no unexpected patterns of concern were identified," wrote researcher Lindsey R. Baden, MD, of Brigham and Women's Hospital, Boston, and colleagues.
In an editorial published with the COVE study findings, Barton F. Haynes, MD, of the Duke Human Vaccine Institute, Durham, North Carolina, wrote that the safety data on the Moderna and Pfizer-BioNTech vaccines has been reassuring. Unlike earlier preclinical trials in SARS-CoV-1 and MERS, no evidence of vaccine-associated enhanced disease (VAED) has emerged.
"In earlier SARS and MERS preclinical studies, VAED occurred with low neutralizing antibodies," Haynes wrote. "Thus, it will be important for the FDA and the Centers for Disease Control and Prevention to continue to monitor clinical trials for safety after issuing an EUA, including assessment of VAED risk."
Baden outlined important questions that remain regarding Covid-19 vaccines, including the duration of protection and whether vaccination protects against asymptomatic SARS-CoV-2 infection.
"That the mRNA Covid-19 and the BNT162b2 Covid-19 vaccines protect with near-identical 94 to 95% vaccine efficacies — and that both vaccines were developed and tested in less than a year — are extraordinary scientific and medical triumphs," Haynes wrote. "This happened because the scientific community was prepared from years of technology development for other vaccines, such as those against HIV, influenza, respiratory syncytial virus, and Zika, and because clinical trials consortia were established that rapidly carried out Covid-19 efficacy trials. If mRNA-LNP vaccines significantly contribute to the control of the pandemic, mRNA technology has the potential to radically change vaccine design for future viral outbreaks."
Peer-reviewed findings from the COVE trial showed the Moderna mRNA-1273 vaccine to have 94.1% efficacy for preventing Covid-19.
No significant safety concerns were reported among recipients of the mRNA-1273 vaccine at a median of 2 months follow-up.
Salynn Boyles, Contributing Writer, BreakingMED™
Funding for this research was provided by the Biomedical Advanced Research and Development Authority and the National Institute of Allergy and Infectious Diseases.
Lead researcher Lidnsey Baden reported Dr. Baden reported receiving grants from NIH/NIAID, during the conduct of the study; grants from Ragon Institute, grants from NIH/ NIAID, grants from Gates Foundation, grants from Wellcome Trust, outside the submitted work; and Dr. Baden is a Deputy Editor at the New England Journal of Medicine. Dr. Baden is involved in HIV and COVID vaccine clinical trials conducted in collaboration with the NIH, HIV Vaccine Trials Network (HVTN), COVID Vaccine Prevention Network (CoVPN), International AIDS Vaccine Initiative (IAVI), Crucell/Janssen, Moderna, Military HIV Research Program (MHRP), Gates Foundation, and the Ragon Institute.
Editorial writer Barton F. Haynes reported collaborating on Covid-19 and HIV antibody vaccine research projects with John Masocola, Bob Seder, Peter Kwong and Barney graham at the NIH VRC. and collaborating with Lindsey Baden on HIV vaccine research projects.
Cat ID: 125
Topic ID: 79,125,730,933,125,31,926,192,561,927,151,928,925,934