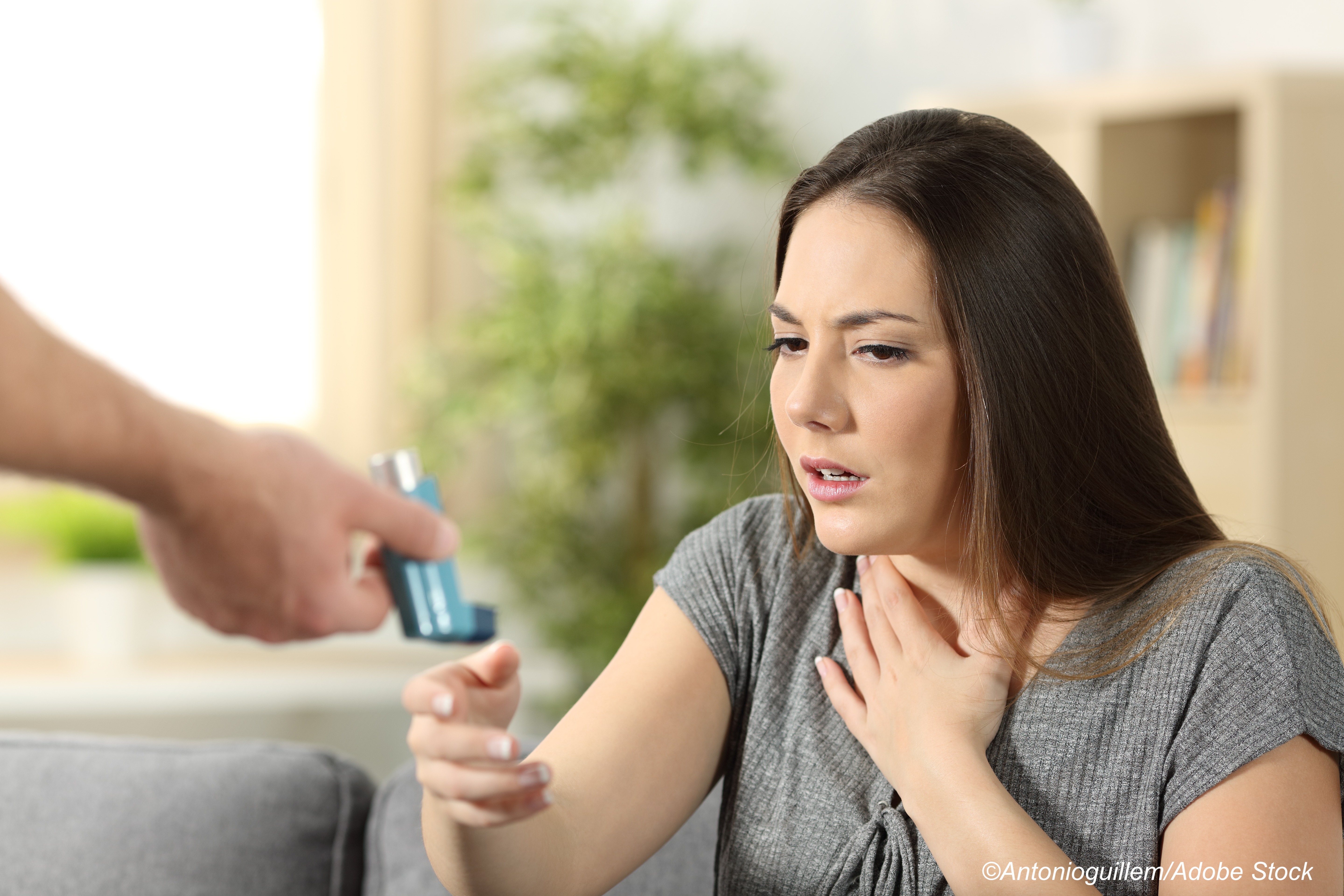 Treatment with the biologic benralizumab was associated with significant reductions or discontinuation of oral corticosteroid use in steroid-dependent patients with eosinophilic asthma participating in the multicenter, open-label PONENTE trial.
Despite a high prevalence of adrenal insufficiency among the study cohort, most patients treated with the IL-5 receptor α-directed monoclonal antibody were able to stop or reduce oral corticosteroid use following a period of personalized tapering based on a steroid-reduction algorithm.
Roughly 63% of patients were able to eliminate daily oral corticosteroid use and about 82% either eliminated usage or achieved a corticosteroid dosage of 5 mg or less when adrenal insufficiency prevented further dose reductions.
Peer-reviewed findings from the PONENTE study were published in the journal Lancet Respiratory Medicine.
"Despite withdrawing oral corticosteroids, treatment with benralizumab was associated with stable or improved asthma control and decreased exacerbations compared with baseline," wrote researcher Andrew Menzies-Gow, MD, of the Royal Brompton and Harefield Hospitals, London, and colleagues.
Menzies-Gow and colleagues noted that while current guidelines call for the use of biologics as the preferred controller medication for severe asthma, with low-dose oral corticosteroids as a less preferred option, "20%-60% of patients with severe asthma regularly use oral corticosteroids, which are associated with adverse effects, including depression, diabetes, and cardiovascular disease."
"The equivalent of two to four courses (cumulative exposure 0.5-1.0 g) of oral corticosteroids can cause serious adverse events, including adrenal insufficiency, and the risks increase with longer term therapy, more frequent courses and higher cumulative doses," they wrote. "If not detected and corrected, adrenal insufficiency might be life-threatening (ie, adrenal crisis), particularly during periods of stress (e.g., intercurrent illness)."
They noted that the goal of reducing or eliminating oral corticosteroid use in the treatment of severe asthma is "frequently not achieved because of a combination of scarce data and poor clinical consensus with regard to the speed of oral corticosteroid dosage reduction or the need for adrenal insufficiency evaluation in corticosteroid reduction protocols after biologics are initiated."
The PONENTE trial was designed to assess the impact of an individualized steroid-reduction algorithm following benralizumab initiation, which included adrenal insufficiency monitoring.
When a morning cortisol testing yielded an indeterminate result, an adrenocorticotropic hormone (ACTH) stimulation test was performed within 1 week. Patients with normal adrenal function (either morning cortisol >350 nmol/L or ACTH stimulation >450 nmol/L) continued oral steroid dosage reductions. If partial adrenal insufficiency was confirmed by the ACTH stimulation test (250-450 nmol/L), dosage reductions were slowed.
The study, conducted at 138 asthma treatment centers in 17 countries, enrolled 598 patients with eosinophilic asthma who had required maintenance oral steroids for at least the previous 3 months. The patients received benralizumab 30 mg (subcutaneous injection) every 4 weeks for three doses, then every 8 weeks thereafter.
The oral corticosteroid reduction phase began at week 4 with daily steroid dosages reduced by 1–5 mg every 1–4 weeks depending on the starting dosage, asthma control, and adrenal function status.
"Adrenal function was assessed with an early morning serum cortisol measurement, followed by adrenocorticotropic hormone stimulation when required, once patients achieved a daily oral corticosteroid dosage of 5 mg/day for 4 weeks," the researchers wrote.
Repeat cortisol measurements were taken for patients with evidence of adrenal insufficiency at first testing.
Asthma control was assessed weekly throughout the induction and oral corticosteroid reduction phases of the study and the primary endpoints were the percentage of patients eliminating daily oral corticosteroids, sustained for at least 4 weeks, and the percentage achieving elimination or a daily prednisone or prednisolone dosage of 5 mg or less, for at least 4 weeks, "if the reason for no further reduction was adrenal insufficiency."
All patients enrolled in the study received at least one dose of benralizumab.
Among the main findings:
376 of 598 (62.88%, 95% CI 58.86-66.76) patients eliminated oral corticosteroids and 490 (81.94%, 95% CI, 78.62-84.94) eliminated use or achieved a dosage of 5 mg or less if the reason for stopping reduction was adrenal insufficiency.
Dosage reductions were achieved "irrespective of baseline eosinophil count, baseline oral corticosteroid dosage, or oral corticosteroid treatment duration."
At first assessment, 321 (60%) of 533 patients had detected adrenal insufficiency, and 2-3 months later it was detected in 205 (38%) of 533 patients.
Three-out-of-four (75%) patients had no asthma exacerbations during the oral corticosteroid reduction phase with an annualized exacerbation rate of 0.63. In all, 6% experienced exacerbations resulting in emergency department or urgent care visits or hospitalizations.
In accompanying correspondence, Brian Lipworth, MD, and colleagues from the Scottish Centre for Respiratory Research, University of Dundee, wrote that a potential limitation of the personalized, steroid tapering algorithm involved the assessment of adrenal reserve.
Lipworth and colleagues wrote that the 250 µg dose of ACTH used for stimulation "is supraphysiologic and will inevitably result n a relatively higher proportion of tests with apparently normal stimulated cortisol levels compared with a more physiological dose of 0.5-1 µg."
"Therefore, the presence of a normal cortisol response after stimulation cortisol response after stimulation with 250 μg of ACTH in turn might lull clinicians into a false sense of security in terms of successful oral corticosteroid weaning on benralizumab, when patients might conceivably still be at risk of adrenocortical insufficiency," they wrote. "In this regard, such patients with severe asthma would also be taking high doses of inhaled corticosteroids, which have a propensity for blunting the stimulated cortisol response even in the absence of oral corticosteroids. Hence, we suggest that clinicians should advise such patients who are weaned off of oral corticosteroids while taking benralizumab to continue carrying corticosteroid emergency warning cards because they might still be at risk of impaired adrenal reserve in response to stressful stimuli."
Disclosure:
The PONENTE trial was funded by AstraZeneca. Andrew Menzies-Gow reported attending advisory boards for AstraZeneca, GlaxoSmithKline, Novartis, Sanofi, and Teva, and is a steering committee member for the AstraZeneca PONENTE study; has received speakers' fees from AstraZeneca, Novartis, Roche, and Teva; has participated in research with AstraZeneca, for which his institution has been remunerated; has attended international conferences with Teva; and has made consultancy agreements with AstraZeneca, Sanofi, and Vectura. Other study researchers reported receiving personal and other fees from AstraZeneca and other pharmaceutical companies, being employees and/or stockholders in AstraZeneca or other pharmaceutical companies.
by
Salynn Boyles, Contributing Writer, BreakingMED™
Kaiser Health News
Kaiser Health News is a nonprofit news service covering health issues. It is an editorially independent program of the Kaiser Family Foundation, which is not affiliated with Kaiser Permanente.