SMA2 adult patients also show trend toward improvement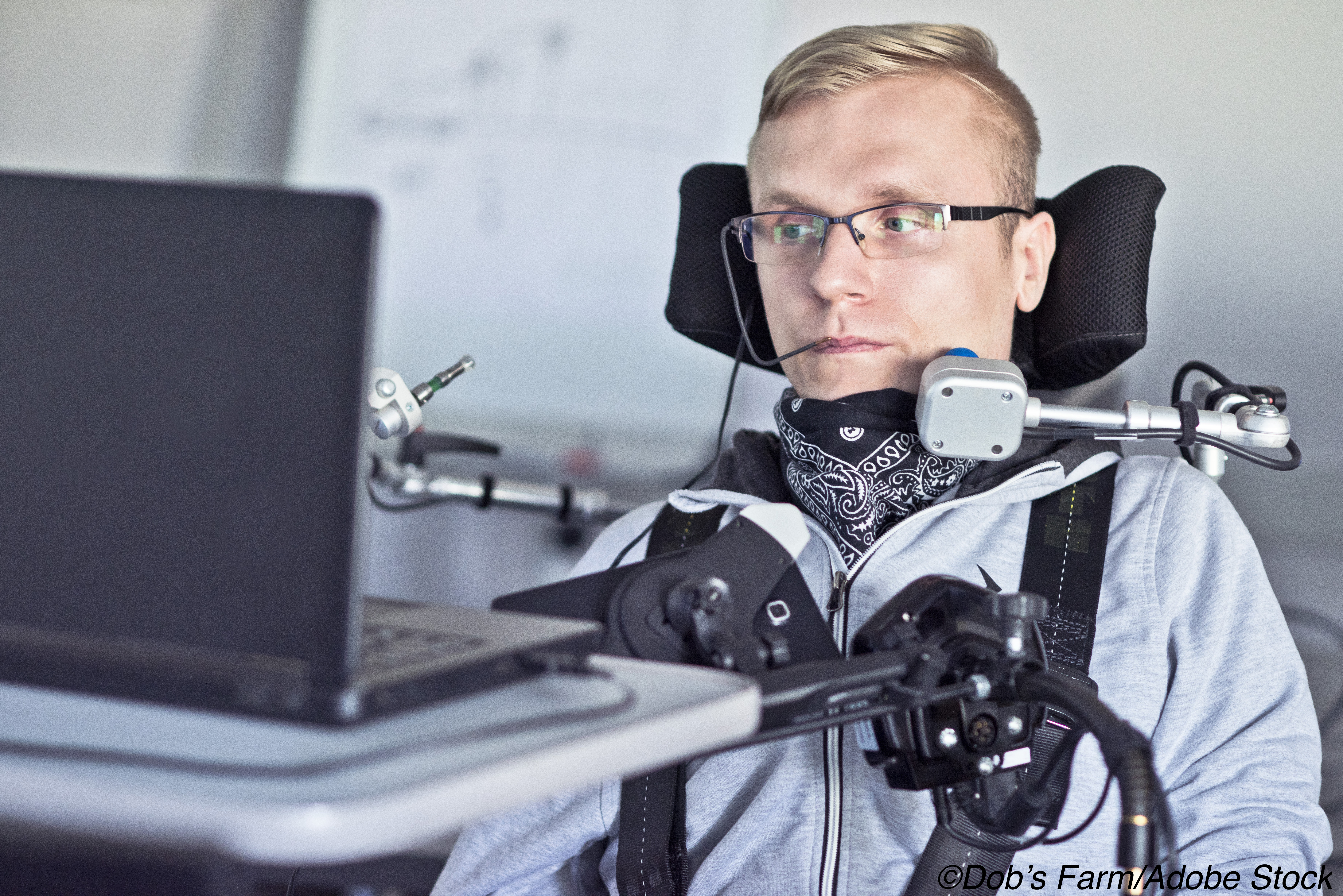 Adults treated for spinal muscular atrophy type 3 (SMA3) with nusinersen (Spinraza) showed significant functional improvement, and those with spinal muscular atrophy type 2 (SMA2) trended toward improvement, a retrospective study found.
Patients with SMA3 — 103 adults, 51 of whom were able to sit and 52 of whom were able to walk — showed improvement on both the Hammersmith Functional Rating Scale Expanded (HFMSE) and the Revised Upper Limb Module (RULM), reported Lorenzo Maggi, MD, of the Foundation IRCCS Carlo Besta Neurological Institute, Milan, Italy and coauthors in the Journal of Neurology, Neurosurgery & Psychiatry.
No significant changes in these two measures were seen in 13 patients with SMA2.
"Our data provide further evidence of nusinersen safety and efficacy in adult SMA2 and SMA3, with the latter appearing to be cumulative over time," Maggi and co-authors wrote. "In patients with extremely advanced disease, effects on residual motor function are less clear."
The study shows that "treatment with nusinersen can be administered safely to adult patients with SMA, with clinically meaningful results obtained in a 'real world' setting," noted Michelle Farrar, PhD, and Matthew Kiernan, MBBS, PhD, DSc, both of the University of Sydney in New South Wales, Australia, in an accompanying editorial.
"These results will help to guide therapeutic expectations for adult patients with SMA considering therapy and further highlight the utility of baseline motor function in predicting treatment response to nusinersen," they wrote.
"In 13 adults diagnosed with SMA type 2, no significant improvements in HFMSE or RULM were observed over 14 months, providing caution to clinicians when treating more advanced disease," they added.
A new era of SMA treatment began with FDA approval of nusinersen, the first drug to treat SMA, in 2016. It is now one of several approved therapies for SMA, a disease that ranges in age and severity from early infant or child death (SMA1 and SMA2) to less severe older onset cases (mostly SMA3).
Nusinersen is an antisense oligonucleotide that modifies pre-mRNA splicing to increase deficient survival motor neuron (SMN) protein in SMA. It is administered by intrathecal injection every 4 months following loading doses during the first 60 days and was approved for all types of SMA in patients of any age based on data in infants and children. Lumbar puncture complications, including back pain and headache, may be significant with nusinersen.
American Academy of Neurology guidelines for nusinersen use in SMA recommended studies in adults to provide safety data and establish the expected response.
In this study, Maggi and colleagues included patients with clinical and molecular diagnosis of SMA2 or SMA3, all treated with four 12 mg intrathecal loading doses over a 63-day period, followed by maintenance doses every 4 months.
There were 116 patients who began treatment and were included in the analysis (48 female, 68 male), and 54 patients treated by the 14-month study conclusion. Median age at onset of symptoms was 3 years, and median age at starting treatment was 34 years. Responders were defined by assessment scores; criteria were improvement by 3 points on the HFMSE or 2 points on the RULM.
In SMA3, HFMSE scores increased at 6, 10, and 14 months by median changes of +1, +2, and +3 points, respectively (P<0.0001 for all). Improvements were independently significant in SMA3 subgroups who were able to sit (median 3-point increase) and who were able to walk (median 2-point increase). SMA3 patients also had improved RULM scores at 14 months, with median increase of 0.5 points (P=0.012). Most benefit was seen in the sitting subgroup, with improvement of 2 points (P=0.018).
In the whole cohort, 53% were considered responders at 6 months, 63% at 10 months, and 69% at 14 months. There were more HFMSE-defined responders in the SMA3 group (41% and 52% at 10 and 14 months, respectively) than SMA2 (11% and 20% at 10 and 14 months, respectively). Conversely, RULM-defined responders showed higher rates in the SMA2 group at 10 and 14 months (56% and 60%, respectively) compared with the SMA3 group (24% and 32%, respectively).
"Unlike the pediatric population, our study confirms that the effect of nusinersen is not clearly correlated with disease duration in adults," the researcher wrote. "In addition, we confirm that patients with less advanced disease at baseline showed greater motor improvement."
"In particular, our data stress the relevance of residual motor function at baseline in predicting response to nusinersen," they emphasized.
The most frequent adverse event was post-procedure headache, affecting about 37% of patients; five patients required hospitalization. Aside from headaches requiring hospitalization, adverse events were considered mild or moderate and were judged not related to nusinersen itself, but to drug administration procedures.
Limitations of the study include those inherent to retrospective study design and a small SMA2 sample size. "Further collaborative studies to monitor side effects and efficacy in real-world settings, incorporating standardized assessments and patient-reported outcome measures with biomarker approaches, are required to confirm the impact of intrathecal nusinersen relative to disease progression over time in adults with advanced disease," the editorialists said.
Adults treated for spinal muscular atrophy type 3 (SMA3) with nusinersen showed functional improvement, and those with spinal muscular atrophy type 2 (SMA2) had a trend toward improvement in a real-world study.

A total of 103 adults with SMA3 were included in the study, but only 13 adults with SMA2.
Paul Smyth, MD, Contributing Writer, BreakingMED™
The authors have not declared a specific grant for this research from any funding agency in the public, commercial or not-for-profit sectors.
Maggi has received honoraria for speaking and compensation for congress participations from Sanofi Genzyme and Biogen.
Farrar and Kiernan reported no disclosures.
Cat ID: 130
Topic ID: 82,130,730,130,192,925