REALITY results show restrictive transfusions noninferior to liberal transfusions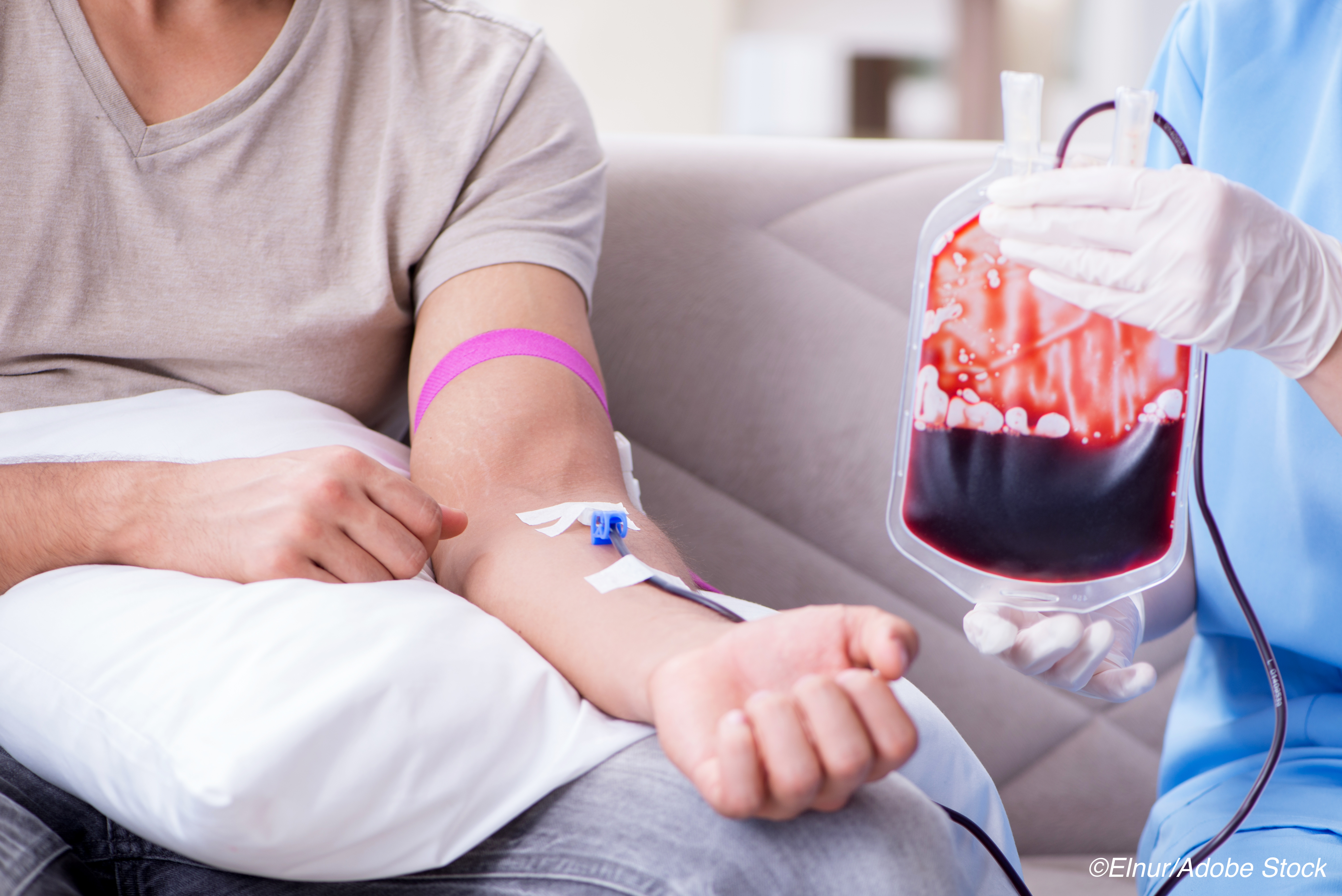 Restrictive transfusion for patients with acute myocardial infarction (AMI) and anemia is noninferior to a liberal transfusion strategy in the incidence of major adverse cardiovascular events (MACE), according to results from the open-label, randomized Restrictive and Liberal Transfusion Strategies in Patients with Acute Myocardial Infarction (REALITY) trial.
"Anemia is common in patients with AMI and is associated with worse clinical outcomes. In theory, transfusion should increase oxygen delivery, which would argue for a liberal transfusion strategy in patients with acute myocardial ischemia. However, data suggest that oxygen delivery is not necessarily increased in patients receiving transfusions, due to red blood cell depletion in nitric oxide and 2,3-diphosphoglyceric acid during storage, and that, conversely, transfusion may increase platelet activation and aggregation and produce vasoconstriction," explained senior author Philippe Gabriel Steg, MD, of the Université de Paris, France, and his fellow REALITY researchers in JAMA.
Observational studies have produced conflicting results, and while previous large, randomized trials have compared transfusion strategies in patients undergoing surgical procedures and those with gastrointestinal bleeding and have shown a benefit from restrictive transfusion strategies, patients with AMI were excluded.
In this study, therefore, Steg and colleagues sought to determine the noninferiority of a restrictive transfusion strategy compared with a liberal one in patients with AMI and anemia. In all, 666 patients (median age: 77 years; 42.2% women) with MI and hemoglobin levels from 7-10 g/dL were enrolled from 35 hospitals located throughout France and Spain.
Patients were randomized to either restrictive or liberal transfusion strategies. Restrictive transfusions were those triggered by hemoglobin ≤8 and comprised of 342 total units of packed red blood cells; liberal transfusions were triggered by levels of ≥10 g/dL and comprised of 758 total units. Patients were followed for 30 days.
Most patients in the liberal transfusion group received two or more units. Both transfusion strategies were maintained until patients were discharged or 30 days after randomization, whichever came first. Transfusions could be administered at any time for documented massive overt active bleeding, important decreases in hemoglobin levels, and shock due to blood loss after randomization.
The primary outcome—MACE—included all-cause death, nonfatal stroke, nonfatal recurrent MI, or emergency revascularization for ischemia, and occurred in 11.0% (95% CI: 7.5%-14.6%) of patients given restrictive transfusions, compared with 14.0% (95% CI: 10.0%-17.9%) in those receiving liberal transfusions, for a difference of −3.0% (95% CI: −8.4% to 2.4%).
At 30 days, MACE occurred in 11.0% of those in the restrictive transfusion group, compared with 14% of the liberal transfusion group. The relative risk of MACE was 0.79 (1-sided 97.5% CI: 0.00-1.19), which met the prespecified criterion for noninferiority. Steg and colleagues also found the following when comparing the restrictive and liberal transfusion groups:
All-cause death: 5.6% versus 7.7%, respectively.
Recurrent MI: 2.1% versus 3.1%.
Emergency revascularization caused by ischemia: 1.5% versus 1.9%.
Nonfatal ischemic stroke: 0.6% in both groups.
Also important to consider are the potential adverse effects of transfusion, as well as the logistic hurdles and costs that are involved, according to Steg and fellow researchers.
In the restrictive transfusion group, 11.7% of patients had at least one adverse event, compared with 11.1% in the liberal transfusion arm. The most common adverse events were acute kidney injury (9.7% versus 7.1%, respectively) and acute heart failure (3.2% versus 3.7%). Overall, the restrictive transfusion strategy was safer than the liberal strategy, with patients in the restrictive group less likely to develop infections (0% versus 1.5%) or acute lung injury (0.3% versus 2.2%).
According to these researchers, a similar clinical trial is ongoing, and will have the ability to determining clinical superiority using all-cause mortality and nonfatal recurrent AMI.
"Longer follow-up to 1 year is being accrued and will allow evaluation of the potential long-term effects of the 2 transfusion strategies as well as assessment of potential quality of life and incremental cost-utility ratio differences between the groups," they wrote.
Study limitations include its open-label design and moderate size not powered to assess superiority, as well as a possibly too large noninferiority margin of 1.25 that included potentially clinically important harm, the limited duration of follow-up, and the non-regulated collection of hemoglobin levels during hospitalization.
The REALITY trial supports noninferiority of a restrictive blood transfusion strategy in patients with acute MI and anemia.

At 30 days, the incidence of MACE—the primary endpoint of the study—was similar in both groups, occurring in 11.0% of those in the restrictive transfusion group, compared with 14% of the liberal transfusion group.
Liz Meszaros, Contributing Writer, BreakingMED™
The French Alliance for Cardiovascular Trials designed this study, which was funded by the Programme de Recherche Médico-Economique 2015 and the Instituto de Salud Carlos III. Sponsoring the trial was the Délégation à la Recherche Clinique et au Développement, Assistance Publique-Hôpitaux de Paris.
Steg reported receiving grants from the French Ministry of Health and the Spanish Ministry of Industry during the conduct of the study and grants from Amarin, Bayer, Sanofi (Odyssey Outcomes co-chair), and Servier (CLARIFY registry chair) and personal fees from Amgen, AstraZeneca, Bayer, Bristol Myers Squibb, Boehringer Ingelheim, Idorsia, Novartis, Novo Nordisk, Pfizer, Sanofi, Myokardia, Phase Bio, and Janssen outside the submitted work.
Cat ID: 358
Topic ID: 74,358,570,730,358,914,192,925