For the first time, researchers can show direct cardiac benefits of both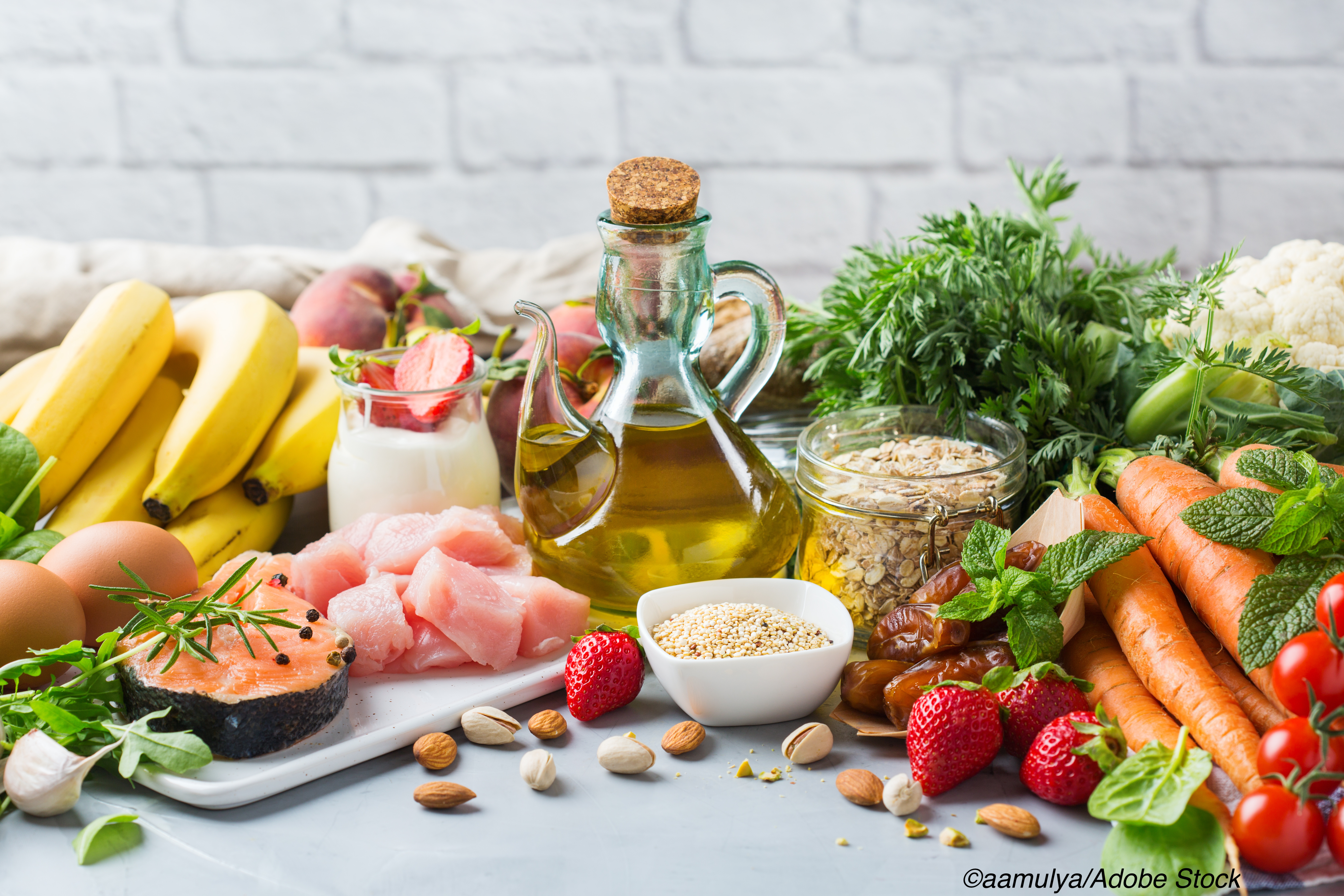 Adhering to the DASH diet and reducing sodium intake will lower two biomarkers of subclinical cardiac injury and strain: high-sensitivity cardiac troponin I (hs-cTnI) and N-terminal pro-B-type natriuretic peptide (NT-proBNP), according to results from the latest iteration of the DASH-Sodium Trial, published in the Journal of the American College of Cardiology. The combination, however, did not reduce inflammation.
Taken alone, the DASH diet reduced hs-cTn1 and high-sensitivity C-reactive protein (hs-CRP)—a measure of inflammation— while sodium reduction reduced NT-proBNP but increased hs-CRP.
"The DASH (Dietary Approaches to Stop Hypertension)-Sodium trial was a controlled-feeding study that examined the effects of 3 levels of sodium intake (low, medium, or high) in 2 distinct diets—a typical American diet (control diet) or a healthy diet (DASH Diet)—on blood pressure. Ultimately, the trial demonstrated that both the DASH diet and sodium reduction independently reduced blood pressure in adults with elevated blood pressure or hypertension. However, the impacts of sodium reduction on subclinical cardiac injury, strain, or inflammation were not determined. Given the potent effects of sodium on blood pressure, we hypothesized that sodium reduction would reduce subclinical cardiac injury, strain, and inflammation," wrote researchers led by Stephen P. Juraschek, MD, PhD, of the Beth Israel Deaconess Medical Center, Harvard Medical School, Boston.
In 2001, researchers of the original DASH-Sodium trial concluded that the DASH diet plus a low-sodium diet brought about more blood pressuring lowering than either strategy alone. For the most recent iteration of this trial, Juraschek included 412 participants (mean age: 48 years; 56% women; 56% Black) with a mean baseline systolic/diastolic BP of 130/86 mmHg who were randomized to the DASH diet or a control diet.
"The DASH diet emphasized fruits, vegetables, and low-fat dairy products; included whole grains, poultry, fish, and nuts; and was reduced in saturated fat, total fat, cholesterol, red meat, sweets, and sugar-containing beverages. The control diet was designed to reflect a diet typical of what many people in the United States eat," wrote Juraschek and colleagues.
Participants' diets were strictly controlled, and all meals and snacks were prepared and provided, with the main meal (lunch or dinner) eaten at the study center under direct observation.
Weight was maintained as a constant, and caloric needs to maintain weight were estimated, monitored, and adjusted throughout the study, and included five energy levels: 1,600, 2,100, 2,600, 3,100, and 3,600 kcal/d. For each diet, patients ate each of three sodium levels for four weeks. At a kcal level of 2,100, for example, sodium levels were low (55 mmol/d), medium (100 mmol/d), and high (150 mmol/d).
Researchers assessed three cardiac biomarkers at baseline and following each eating period, including:
hs-cTnI as a measure of cardiac injury.
NT-proBNP as a measure of strain.
hs-CRP as a measure of inflammation.
Participants adhering to the control diet had negligible reductions in NT-proBNP compared with baseline (−17.7%; 95% CI: −23.8% to −11.2%), but those assigned to the DASH diet had a 16.1% reduction in hs-cTnI, a 21.6% reduction in NT-proBNP, and a 14.3% reduction in hs-CRP. Further, compared with the control diet, the DASH diet reduced hs-cTn1 by 14.0% (95% CI: −27% to −7%) and hs-CRP by 13% (95% CI: −24% to −1%), but did not reduce NT-proBNP.
Researchers also found that lowering sodium from high to low levels reduced NT-proBNP independently of diet by 19% (95% CI: −24% to −14%). Lowering sodium levels did not, however, lead to any changes in hs-cTn1, and only slight increases in hs-CRP (9%; 95% CI: 0.4% to 18%).
Combining the DASH diet with sodium reduction lowered hs-cTnI by 20% (95% CI: −31% to −7%) and NT-proBNP by 23% (95% CI: −32% to −12%) but did not lead to significant changes in hs-CRP levels (−7%; 95% CI: −22% to 9%) compared with the high sodium-control diet.
"These data indicate, for the first time, that the combination of the DASH diet and sodium reduction directly affects the heart in 2 distinct ways: through decreased myocardial injury and decreased cardiac strain. Whether these effects are mediated through blood pressure lowering alone or through other mechanisms was not evaluated and would be important for future study. However, evidence of impact on cardiac injury and strain are important because of their known strong correlation with CV events, further bolstering the argument that the DASH-low sodium diet is likely to reduce the risk of CV events," wrote Neha J. Pagidipati, MD, MPH, of Duke University School of Medicine, and Laura P. Svetkey, MD, MHS, of the Duke Clinical Research Institute, Durham, NC, in an accompanying editorial.
"With these new data suggesting a direct cardiac benefit of the DASH-low sodium diet, the authors should be congratulated for continuing to shine a light on a dietary pattern that deserves greater attention from both a policy and an implementation science perspective. We need to approach the adoption of the DASH-low sodium diet in diverse communities with the same scientific rigor and intensity that we have used to understand its biological benefits. The challenge remains moving the DASH-low sodium diet from the research world into the real world, where its significant health benefits can be fully realized," they concluded.
Study limitations include the short duration of the dietary interventions, the inability to isolate the specific dietary factors that influenced results, the limited range of sodium intake, lack of proof of the association between troponin I and cardiovascular events, and the lower mean hs-cTnI levels in study participants compared with other patient populations.
A diet that combines the DASH diet with dietary sodium reduction lowers hs-cTnI and NT-proBNP, biomarkers associated with subclinical cardiac damage and long-term cardiovascular risk.

Promotion of these dietary strategies in the general population will require clinician support and encouragement, as well as proactive public health initiatives.
Liz Meszaros, Deputy Managing Editor, BreakingMED™
The measurement of cardiac biomarkers was supported by the National Institutes of Health (NIH)/National Heart, Lung, and Blood Institute (NHLBI). The original DASH trial was supported by grants from the NHLBI, the Office of Research on Minority Health, and the National Center for Research Resources of the NIH. Siemens (Siemens Healthineers, Malvern, Pennsylvania) donated test assays and kits for the 3 cardiac biomarkers measured in this study.
Juraschek is supported by a grant from the NIH/ NHLBI.
Pagidipati has received research support to the institution from Amgen, AstraZeneca, Boehringer Ingelheim, Eli Lilly, Novartis, Novo Nordisk, Regeneron, Sanofi, and Verily Life Sciences; and has received consultation fees from Boehringer Ingelheim, Eli Lilly, AstraZeneca, and Novo Nordisk.
Svetkey has reported that she has no relationships relevant to the contents of this paper to disclose.
Cat ID: 102
Topic ID: 74,102,730,102,305,333,6,192,51,518,917,925