XPO1 inhibitor plus daratumumab, bortezomib, and dexamethasone shows promise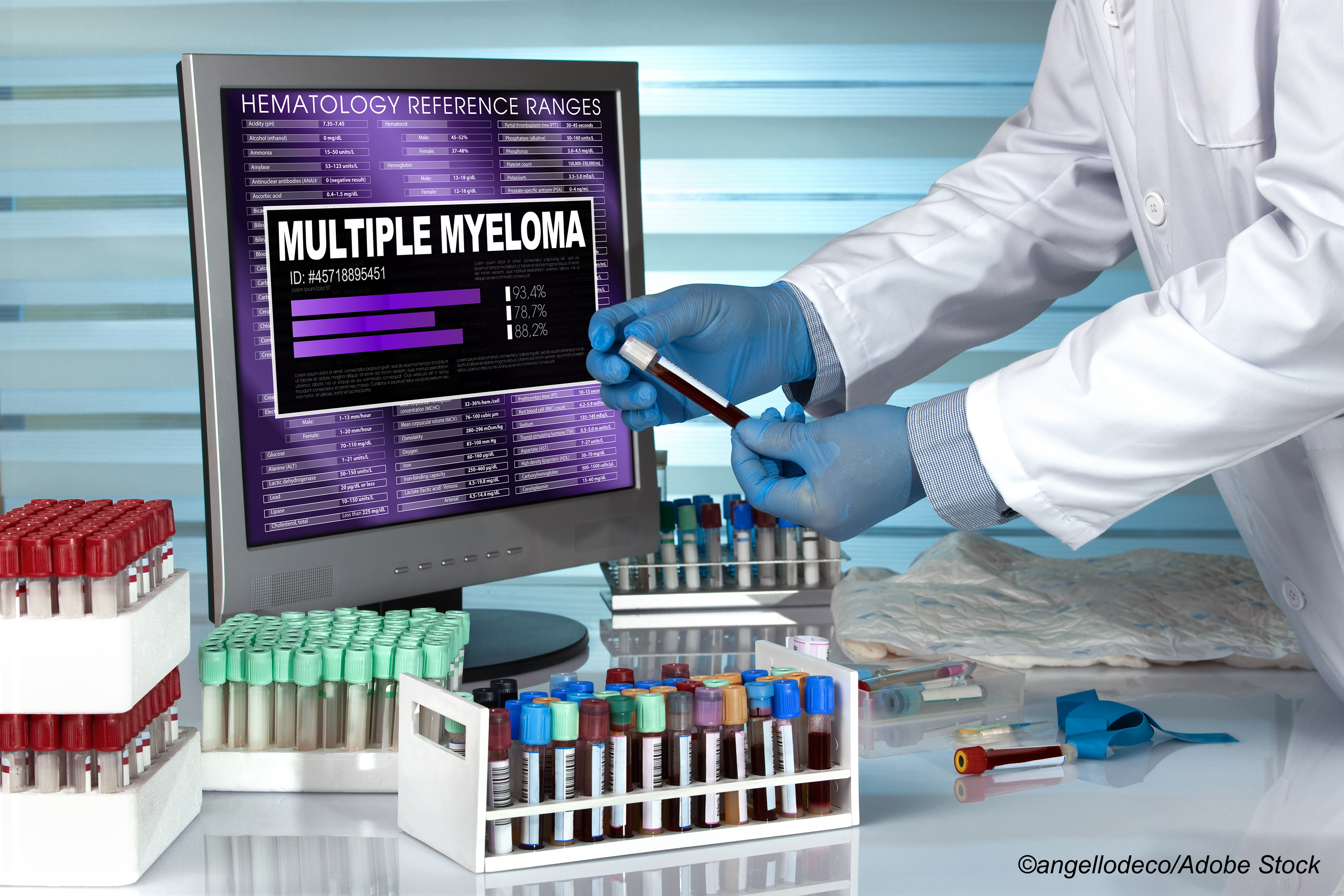 ATLANTA—A multi-drug combination including the exportin-1 inhibitor selinexor appears to elicit an objective response among patients diagnosed with multiple myeloma who have relapsed after at least one line of treatment, researchers reported here.
Among patients who experienced relapse after treatment with three or more regimens, the use of selinexor plus daratumumab-bortezomib and dexamethasone was associated with a 50% response—including three complete response/stringent complete responses (CR/sCR) (12%) among the 24 patients in that group, reported Paula Rodríguez-Otero, MD, PhD, medical coordinator of clinical trials at the Clínica Universidad de Navarra, Pamplona, Spain.
Among patients who had been treated with one or more lines of therapy before receiving the selinexor/daratumumab/bortezomib/dexamethasone regimen, the objective response rate was 82%, she reported in a poster presentation at the 2021 meeting of the American Society of Hematology, with 24% of patients achieving CR/sCR.
"In this phase II, single arm, open-label study," she reported, "the combination of selinexor plus [daratumumab/bortezomib/dexamethasone] showed encouraging efficacy and a manageable safety profile both in the setting of late and particularly early relapsed multiple myeloma."
She did note, however, that the data from the second cohort of 33 patients with fewer previous treatments are immature and require longer follow-up. This group has had 12 months of follow-up, and neither median progression-free survival nor median overall survival has been reached.
In the more heavily-treated patients, median progression-free survival was 7.1 months, and the median overall survival was 27.5 months. Patients in this group have been followed for at least 30 months.
For the GEM-SELIBORDARA study, Rodríguez-Otero and colleagues recruited 57 individuals between July 2018 and March 2021. Patients in the Part 1 group had greater treatment histories, and were about 69 years old; those in the Part 2 group, who underwent less treatment, were about 65 years old. Men made up the majority of both groups. In all, 83% of Part 1 patients were considered to be ECOG performance status 0-1, as were 97% of the Part 2 patients.
Those patients eligible for Part 1 inclusion had to have prior treatment with three lines of therapy, including exposure to a proteasome inhibitor and immunomodulatory drugs, and were refractory to the last line of treatment or double refractory.
They were treated with a regimen of intravenous daratumumab (16 mg/kg weekly) for cycles 1 and 2; the medication was delivered every 2 weeks for cycles 3-6; and the next cycles were administered every month. Bortezomib was administered in a dose of 1.3 mg/m2 subcutaneously on days 1, 8, 15, and 22 for cycles 1-8, and then on days 1 and 15 of subsequent cycles. Dexamethasone was administered at a dose of 40 mg on days 1, 8, 15, and 22. The dose of 100 mg of selinexor was taken on day 1, 8, 15, and 22 of each 4-week cycle.
Part 2 patients who had relapsed after at least one line of therapy received a nearly identical regimen of drugs, but on a 5-week cycle, and selinexor was given at a dose of 60 mg. Treatment was continued until disease progression or unacceptable toxicity developed, both of which were manageable, Rodríguez-Otero reported. She noted that grade 3 or greater thrombocytopenia occurred among 24 of the 57 patients in both parts of the trial; 16 of the patients developed grade 3 or greater neutropenia. Gastrointestinal toxicity, including nausea and diarrhea, reached grade 3 or greater status in three patients. Nausea was controlled with ondansetron for two days and daily olanzapine if anorexia developed.
"Overall, 35 patients required dose modifications," Rodríguez Otero noted, and selinexor was the agent most often modified. Selinexor was discontinued in five patients in Part 1 and in one in Part 2. One patient discontinued due to adverse events.
Vincent Rajkumar, MD, professor of medicine at the Mayo Clinic, Rochester, Minnesota, told BreakingMED, "This study may help establish a goal for combination treatment for selinexor in phase III studies. It shows that the combination of selinexor with daratumumab-bortezomib and dexamethasone is active in patients who have been retreated after several lines of therapy for multiple myeloma.
"What it doesn't tell us is what the role of selinexor is in these studies. Without a control group, it is difficult to know if selinexor is adding anything to the therapy," Rajkumar added.
Selinexor in combination with daratumumab, bortezomib, and dexamethasone appears to have activity in relapsed multiple myeloma.

These phase II results were presented at a medical meeting and should be considered with caution until published in a peer-reviewed journal.
Edward Susman, Contributing Writer, BreakingMED™
The study was funded by Janssen Research and LLD, and by Karyopharm Therapeutics Inc.
Rodríguez-Otero disclosed relationships with Regeneron, Celgene-BMS, Janssen, Amgen, Sanofi, GSK, and Oncopeptides.
Rajkumar disclosed no relationships with industry.
Cat ID: 117
Topic ID: 78,117,728,791,730,117,118,332,468,192,925,331