Objective response observed at 1.4 months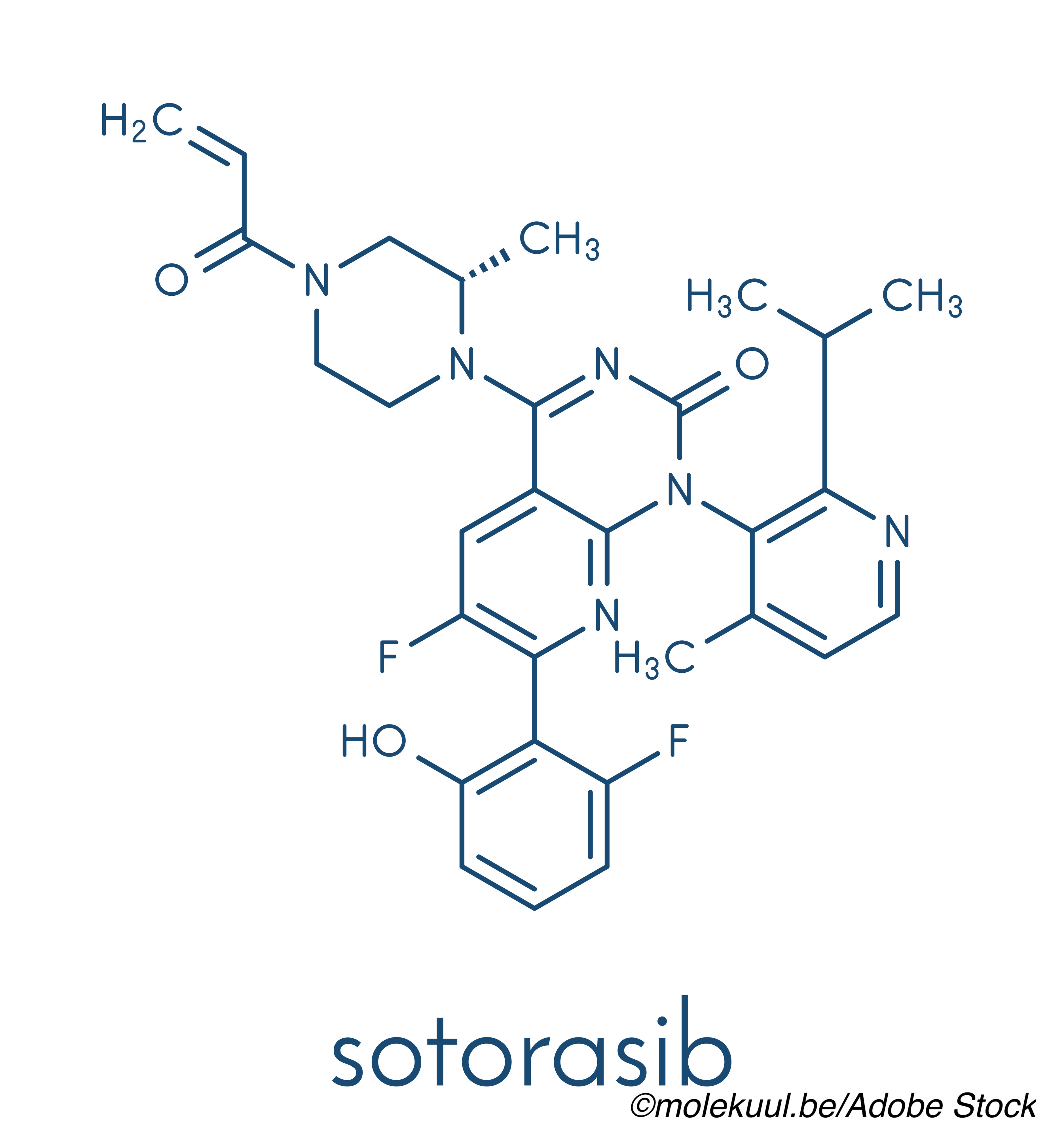 Targeted therapies have greatly improved outcomes in non-small cell lung cancer (NSCLC), but for patients who progress on those therapies, the prognosis is poor, which explains the enthusiasm for sotorasib, a small molecule that "specifically and irreversibly inhibits KRASG12C, a genomic driver of these treatment resistant lung cancers, researchers report.
Following a phase I trial in which sotorasib showed "particularly promising anticancer activity," Ferdinandos Skoulidis, MD, PhD, of the University of Texas MD Anderson Cancer Center in Houston and colleagues, tested sotorasib in patients whose disease had progressed following chemotherapy, immunotherapy, and/or anti-angiogenesis therapy.
Of the 126 patients enrolled, 124 had measurable disease at baseline and were evaluated for response to oral sotorasib (960 mg daily). The median age of patients was 63.5 years and 117 were current or former smokers.
"An objective response was observed in 46 patients (37.1%; 95% confidence interval [CI], 28.6-46.2), including in 4 (3.2%) who had a complete response and in 42 (33.9%) who had a partial response," Skoulidis and colleagues wrote in The New England Journal of Medicine.
The findings from the CodeBreaK100 trial were also reported in an oral abstract session at the ASCO 2021 virtual meeting.
Most of the patients—81%—had "been previously treated with both checkpoint inhibitors and platinum-based chemotherapy; nonetheless, sotorasib treatment induced rapid and durable responses," the study authors wrote.
The median time to treatment response was 1.4 months, median duration of response was 11.1 months. The median progression-free survival among 124 who could be evaluated was 6.8 months, while the median overall survival for the entire cohort was 12.5 months.
"The median duration of treatment was 5.5 months (range, 0.2 to 17.8). A total of 88 patients (69.8%) received sotorasib for 3 months or more, 60 (47.6%) for 6 months or more, and 41 (32.5%) for 9 months or more," they wrote. "Dose reduction occurred in 26 patients (20.6%). As of the data-cutoff date, 103 patients (81.7%) had discontinued treatment with sotorasib; disease progression (in 83 patients [65.9%]) and adverse events regardless of attribution (in 11 [8.7%]) were the most common reasons for discontinuation."
Looking at all responses, 100 patients (80.5%) had disease control, and tumor shrinkage of any magnitude was seen in 102 patients (82.3%). "In an analysis of response according to assessment by the local investigator, which included all 126 patients, 2 patients (1.6%) had a complete response, 37 (29.4%) had a partial response, 69 (54.8%) had stable disease, and 15 (11.9%) had disease progression," Skoulidis and colleagues wrote.
Investigators identified treatment related adverse events in 88 patients. "The worst grade of treatment-related adverse event was grade 3 in 25 patients (19.8%) and grade 4 in 1 patient (0.8%; pneumonitis and dyspnea); no treatment-related adverse events of grade 5 were reported. The most frequent treatment-related adverse events were diarrhea (in 40 patients [31.7%]), nausea (in 24 [19.0%]), increase in the alanine amino-transferase level (in 19 [15.1%]), increase in the aspartate aminotransferase level (in 19 [15.1%]), and fatigue (in 14 [11.1%])."
While cautioning about the risk of comparing results from different trials, the researchers pointed out that "the efficacy that was associated with sotorasib therapy appears to exceed that with ramucirumab plus docetaxel, which was previously reported in the REVEL trial (i.e., the lower boundary of the 95% confidence interval for objective response exceeded that for the benchmark response), and improved outcomes in this population of patients. A numerically higher response was seen among patients with STK11-mutated tumors that were wild-type for KEAP1 than in other subgroups or among all patients who could be evaluated. This finding is noteworthy because inactivating genomic alterations in STK11 confer primary resistance to PD-1 and PD-L1 blockade and docetaxel in patients with KRAS-mutated NSCLC. A response to sotorasib therapy was also observed in patients with KEAP1-mutated tumors, although at a lower percentage than among patients with wild-type KEAP1."
Skoulidis and colleagues cautioned that these were exploratory analyses and not statistically powered.
Additional studies with sotorasib, including a phase III trial as well as a trial of combination therapies and sotorasib as firstline therapy are underway.
On May 28, 2021 the FDA granted accelerated approval to sotorasib for adult patients with KRAS p.G12C‑mutated locally advanced or metastatic NSCLC.
In a phase II, single-center trial, sotorasib demonstrated rapid and durable response in patients with KRAS p.G12C-mutated NSCLC.
Note that additional trials are needed to determine the efficacy of sotorasib in combination with other agents.
Peggy Peck, Editor-in-Chief, BreakingMED™
The trial was funded by Amgen and the National Institutes of Health.
Skoulidis reports grants from Amgen Inc, Mirati Therapeutics, Boehringer Ingelheim, Merck & Co, Novartis, and Pfizer as welll as personal fees from BMS, and RV Mais Promocao Eventos LTDS. He reported compensation from BioNTech SE, and Moderna Inc., and non-financial support from Tango Therapeutics and AstraZeneca Pharmaceuticals, outside the submitted work.
Cat ID: 122
Topic ID: 78,122,730,122,24,935,192,65,925,172