Criteria based on stage and size identify lesions that don't require radical surgery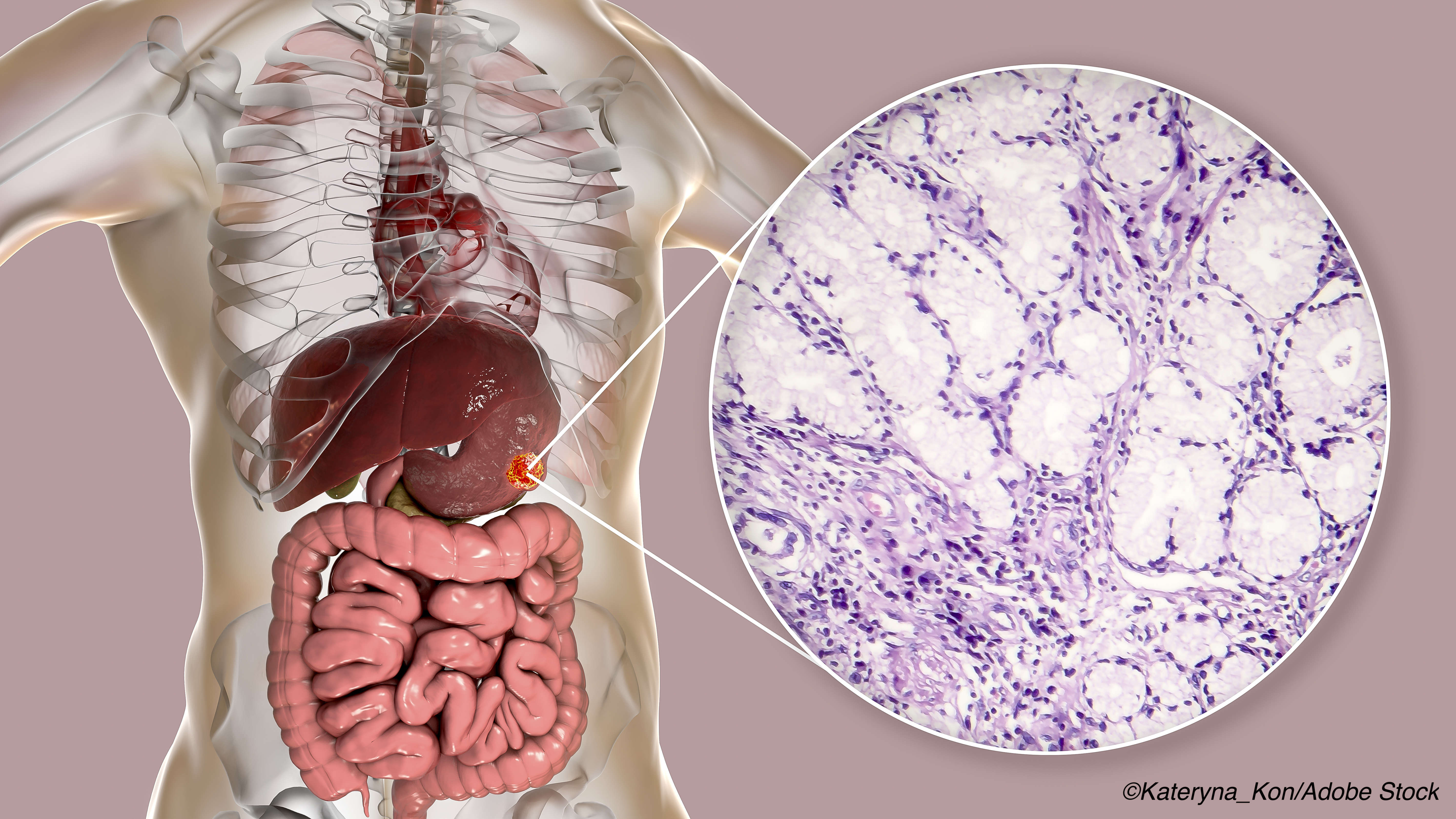 Proximal gastrectomy is a viable alternative to total gastrectomy in patients with gastric adenocarcinoma, as the risk of lymph node involvement is zero provided tumors meet specified stage and size criteria, a retrospective, Korean analysis found.
In a cohort of 655 patients, rates of lymph node metastasis of cT1-T3NO/1MO category carcinomas for station 5 were zero, irrespective of tumor size and differentiation, Young-Woo Kim, MD, PhD, National Cancer Center Graduate School of Cancer Science and Policy, Goyang, Korea and colleagues reported in JAMA Network Open.
Similarly, the rate of lymph node metastasis at stations 4d and 6 for cT1-T3NO/1MO differentiated tumors was again zero.
In contrast, the risk of lymph node metastases increased significantly to 40% when tumor size was 4.1 cm or greater compared with 20.4% of tumors that were under 4.1 cm (P=0.001), investigators added.
"Proximal gastrectomy saves physiologic function and improves the patient's quality of life, nutritional status, weight maintenance, morbidity and anemia compared with TG (total gastrectomy)," they wrote. "The findings of this study suggest that PG (proximal gastrectomy) could be safely performed for cT1-T2N0/1M0 tumors under 4.1 cm in diameter that were located in the upper third of the stomach [while] cT3N0/1M0-differentiated tumors less than 4.1 cm [in diameter] may also be eligible for proximal gastrectomy."
Data from a prospective database of gastric carcinoma surgery collected between December 2000 and December 2015 were analyzed. "[W]e calculated the incidence of metastasis independently for each LN (lymph node) station, without any reference to the overall pathologic stage," they wrote. Key lymph node stations 4d, 5 and 6 are those that the surgeon does not dissect when performing D1+ dissections during proximal gastrectomy.
In the first analysis involving all 655 patients, the mean age was 57.7 years and the mean body mass index (BMI) was 23.8 kg/m2. That analysis revealed that the incidence of lymph node metastasis in both the cN2 and cN3 tumor categories was more than 5 times that seen with cNO and cN1 tumor categories at a Hazard Ratio (HR) of 5.5 (95% CI, 3.4-8.7; P≤0.001). For cN2/3 tumor categories, the overall rate of lymph node metastasis was 61.5% while the incidence of metastasis at the key 4d station again in the cN2/3 category was 5.6%, they noted.
Tumor size greater than or equal to 4.1 cm in diameter increased the risk of lymph node metastasis by almost a factor of 5 at an HR of 4.8 (95% CI, 2.8-8.2; P≤0.001), as did both moderately differentiated carcinomas at an HR of 2.8 (95% CI, 1.5-5); poorly differentiated carcinomas at an HR of 2.7 (95% CI, 1.3-3.8) and the T category of the tumor by an HR of 5.3 for T2 tumors (9 % CI, 3.2-8.8) and T3 tumors at an HR of 13 (95% CI, 8.78-21.7).
The presence of an ulcer also increased the risk of lymph node metastases by almost a factor of 4 at an HR of 3.9 (95% CI, 2.7-5.6), investigators added.
In a second analysis involving 564 patients, the incidence of lymph node metastasis according to the clinical stage of the tumor for all nodes combined were as follows:
T1NO: 11.6%.
T1N1: 4.3%.
T2NO: 36.1%.
T2N1: 45.2%.
T3NO: 52.6%.
T3N1: 60%.
Interestingly, disease-free survival (DFS) rates at 3 years showed no significant difference between patients with cTNM categories or differentiation status.
At 3 years, 96.9% of patients with CT1NO/1MO tumors were alive and free of disease, as were 95.7% of patients with cT2NO/1MO tumors and 95.5% for those with cT3NO/1MO tumors.
Similarly, DFS rates again at 3 years were almost identical for those with well-differentiated tumors at 95.5% compared with 96.4% for those with moderately differentiated tumors and 96.5% for those with poorly differentiated tumors, as investigators pointed out.
Commenting on the findings, editorialist Stefano Crippa, MD, PhD, IRCCS San Raffaele Scientific Institute, Milan, Italy had a number of reservations about the authors' conclusion that proximal gastrectomy can be safely performed when a differentiated cT1-T3NO/N1 or poorly differentiated cT1NO/N1 gastric cancer under 4.1 cm in size is diagnosed preoperatively. Firstly, as he pointed out, the risk of postoperative reflux was significantly higher among patients who underwent proximal gastrectomy, suggesting that post-operative reconstructive techniques to decrease reflux will be important to improve patient comfort.
Other issues that need to be considered if surgeons favor a more conservative surgical approach is the accuracy of preoperative staging with a specific focus on T and N parameters, especially the preoperative evaluation of the N parameter which can be problematic, as Crippa suggested.
"[I]t should be emphasized that the difference between cN1 and cN2 tumors depends on the number of positive lymph nodes [and] this could be a difficult goal for current preoperative investigations," he explained.
There is also increasing evidence that either neoadjuvant or perioperative chemotherapy improves survival in patients with T2 or higher gastric cancer and/or any N+ status.
"Neoadjuvant treatment has become the standard of care for patients with locally advanced gastric cancer in Western countries, and the role for conservative gastric resection following neoadjuvant therapy should be specifically evaluated," the editorialist felt.
"[Thus], the contemporary indication for upfront proximal gastrectomy may be limited to early gastric cancers not amenable to endoscopic treatment and possibly to cT2NO differentiated tumors," he added.
Crippa also cautioned that careful attention needs to be paid to the exact anatomic location of what are currently referred to as "proximal gastric cancers" as, depending on where the tumor arises, they may actually be esophageal cancers and not proximal gastric cancers.
"The findings by [Kim] et al should be tested and validated in adequately powered, controlled, prospective randomized trials [but] the development and spread of endoscopic techniques to treat early gastric cancer and the increasingly frequent use of neoadjuvant chemotherapy for advanced gastric cancer complicate the design of such trials," Crippa acknowledged.
Proximal gastrectomy could be safely performed in now-specified stages and sizes of gastric carcinoma with virtually no risk of finding lymph node metastases for cT1-T3NO/N1 differentiated tumors as well as for cT1NO/N1 poorly differentiated cancers.

The risk of lymph node metastases increased significantly for tumors 4.1 cm or larger as well as for moderately and poorly differentiated tumors and T2 and T3 tumors.
Pam Harrison, Contributing Writer, BreakingMED™
The study authors and editorialist had no conflicts of interest to declare.
Cat ID: 120
Topic ID: 78,120,730,188,120,935,192,925,159