Registry-based study had potential for selection bias; no control group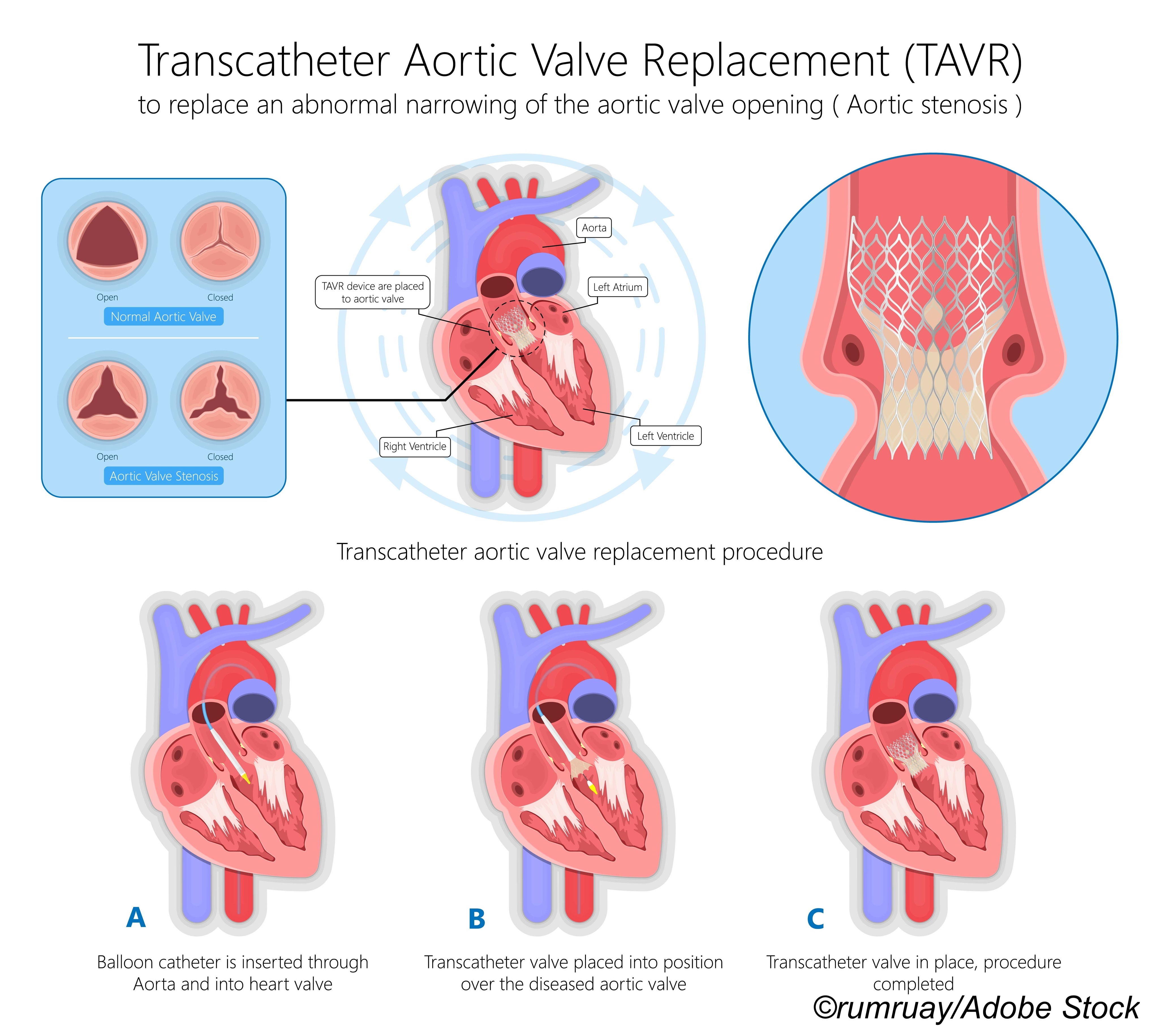 There were no significant differences in death and stroke outcomes with transcatheter aortic valve replacement (TAVR) in people with bicuspid aortic stenosis versus those with tricuspid aortic stenosis, researchers reported.
In the propensity score-matched population, there was no significant difference in the rates of death between bicuspid and tricuspid populations at 30 days (0.9% versus 0.8%, HR 1.18, 95% CI 0.68-2.03, P=0.55) or 1 year (4.6% versus 6.6%, HR 0.75, 95% CI 0.55-1.02, P=0.06), according to Rajendra R. Makkar, MD, of Cedars-Sinai Heart Institute in Los Angeles, and co-authors.
There also was no meaningful difference in the rates of stroke between bicuspid and tricuspid populations at 30 days (1.4% versus 1.2%, HR 1.14, 95% CI 0.73-1.78, P=0.55) or 1 year (2.0% versus 2.1%, HR 1.03, 95% CI 0.69-1.53, P=0.89), they wrote in JAMA.
Results from the registry-based study make a strong case for TAVR as the default option for bicuspid aortic valve (BAV) disease, the authors noted, but they emphasized said TAVR wasn't quite ready to become the gold standard in this patient population.
"Because of the potential for selection bias and absence of a control group treated surgically for bicuspid aortic stenosis, randomized trials are needed to adequately assess the efficacy and safety of transcatheter aortic valve replacement for bicuspid aortic stenosis in patients at low surgical risk," Makkar's group wrote.
Other study limitations included the observational design, lack of center-independent adjudication of adverse events (AEs), lack of an independent imaging core laboratory to confirm bicuspid anatomy or valve function, potential underreporting of AEs, and incomplete follow-up.
But the study adds more weight to previous research on TAVR and aortic stenosis by Makkar and colleagues. In 2019, the group reported that outcomes, including mortality and stroke rates, for 2,726 patients with a BAV were no different than 79,096 patients without a BAV after undergoing TAVR.
"This is important because many of the pivotal studies on TAVR did not include bicuspid patients due to concern that these valves may not expand and work in fish-mouth like narrowing in bicuspid anatomy," Makkar wrote in a 2019 press release.
"This study highlights a critical evaluation that may help some patients avoid unnecessary surgery and complications," commented Eduardo Marbán, MD, PhD, director of the Smidt Heart Institute in the release. "Many, but not all, patients with bicuspid aortic valve are candidates for TAVR."
And "As TAVR indication extends to younger and healthier patients, we are going to see more bicuspid aortic valve stenosis because amongst young patients, [who] are undergoing surgery, almost half of them have bicuspid aortic valve. It was important for us to look at that subset because all the pivotal studies done so far have excluded bicuspid aortic valve stenosis," explained Makkar in a 2019 MDEdge interview.
2020 saw the findings from the PARTNER2A trial in The New England Journal of Medicine (NEJM), and TAVR had similar key 5-year clinical outcomes of death and stroke as patients who had traditional open-heart surgery. Makkar noted in a press statement that advances in valve design, such as a skirt to reduce leak around the valve, and the option for more valve sizes, would only improve TAVR outcomes.
In a NEJM accompanying editorial, Eric Van Belle, MD, PhD, of the Université de Lille in France cautioned that PARTNER2A also "reveals the long-term drawbacks of TAVR technology, which is still relatively new. Whether the refinements of third-generation valves and further iterations will overcome these pitfalls is a question requiring an answer before TAVR can take over as first-line treatment from the well-defined procedure of surgical aortic-valve replacement in intermediate-risk patients."
And two letters to the NEJM editor highlighted concerns about the "the durability of TAVR devices" and the "potential clinical, procedural, or device-related factors that affect left ventricular regression in order to improve clinical outcomes."
Patients for the current study were a propensity score-matched cohort (mean age 69; about 70% male; 93% white) from the Society of Thoracic Surgeons (STS)/American College of Cardiology Transcatheter Valve Therapies Registry of patients undergoing TAVR at 684 U.S. facilities.
Nearly 160,000 patients (n=7,058 bicuspid; 152,603 tricuspid) were identified, and about 37,000 (n=3,243 bicuspid; 34,417 tricuspid) were deemed at low surgical risk, which was defined as an STS risk score <3%).
Primary outcomes were 30-day and 1-year mortality and stroke between TAVR for bicuspid and tricuspid aortic stenosis. Secondary outcomes included procedural complications and valve hemodynamics.
On a procedural basis, the results in the bicuspid and tricuspid TAVR groups were encouraging:
Conversion to surgery: 0.4% versus 0.4%, respectively.
Coronary compression or obstruction: 0.2% versus 0.1%.
Need for second valve implantation: 0.3% versus 0.1%.
Perforation with or without tamponade: 0.8% versus 0.5%.
Device embolization into aorta/ventricle: 0.03% versus 0.1%.
New permanent pacemaker implantation: 6.2% versus 5.2%.
The authors also reported no significant differences between the bicuspid and tricuspid groups for the following:
Valve hemodynamics: aortic valve gradient 13.2 mm Hg versus 13.5 mm Hg, 0.3 mm Hg absolute risk difference (95% CI -0.9-0.3 mm Hg).
Moderate or severe paravalvular leak: 3.4% versus 2.1%, 1.3% absolute RD 1.3% (95% CI -0.6%-3.2%).
Only balloon-expandable valves were evaluated, so the results cannot be generalized to other valve types, Makkar's group stressed.
The 1-year outcomes data from the study was another issue, according to Catherine M. Otto, MD, of the University of Washington School of Medicine in Seattle, and David E. Newby, MD, PhD, of the British Heart Foundation Centre for Cardiovascular Science in Edinburgh.
They pointed out in an editorial accompanying the study that patients with BAV disease develop severe aortic stenosis approximately 10 years younger than patients with tricuspid valve disease. In the study, the patients were "relatively young, mostly men, and white with a low estimated surgical risk (mean STS score, 1.7%)," they noted. "Therefore, questions regarding longevity of transcatheter bioprosthetic valves become increasingly important, with this study reporting only 1-year outcomes and with robust data extending to only about 5 years available in the published literature.
And bioprosthetic aortic valves usually require repeat surgical intervention after a decade, with valve longevity lower in younger, more active patients.
"More robust long-term durability data are needed for patients with either bicuspid or trileaflet aortic valve disease [treated with TAVR], but particularly for those with bicuspid aortic valve disease," according to Otto and Newby.
There was no significant difference in death at 30 days, death at 1 year, stroke at 30 days, or stroke at 1 year for patients at low surgical risk undergoing transcatheter aortic valve replacement (TAVR) for bicuspid compared with tricuspid aortic stenosis in a registry-based cohort study.

Procedural success was not significantly different between patients with bicuspid aortic valve versus tricuspid aortic valve replacement, but because of potential selection bias, no control group, and other limitationsm, randomized trials are needed to adequately assess the efficacy and safety of TAVR for bicuspid aortic stenosis in patients at low surgical risk.
Shalmali Pal, Contributing Writer, BreakingMED™
The study was supported by Edwards Lifesciences.
Makkar reported support from, and/or relationships with, Edwards Lifesciences, Medtronic, Abbott, and Boston Scientific. Co-authors reported support from, and/or relationships with, Edwards Lifesciences, Abbott, Medtronic, Boston Scientific, Abbott Vascular, Transmural Systems, the American College of Cardiology, the Society of Thoracic Surgeons, the FDA, the NIH, Cytokinetics, Janssen, HeartFlow, the American College of Physicians, Admedus, Dura Biotech, Thubrikar Aortic Valve and MicroInterventional Devices, TriFlo, Adona, and Supira.
Otto and Newby reported no relationships relevant to the contents of this paper to disclose.
Cat ID: 308
Topic ID: 74,308,730,308,914,192,925