Designed to target CNS lesions, lorlartinib finds its mark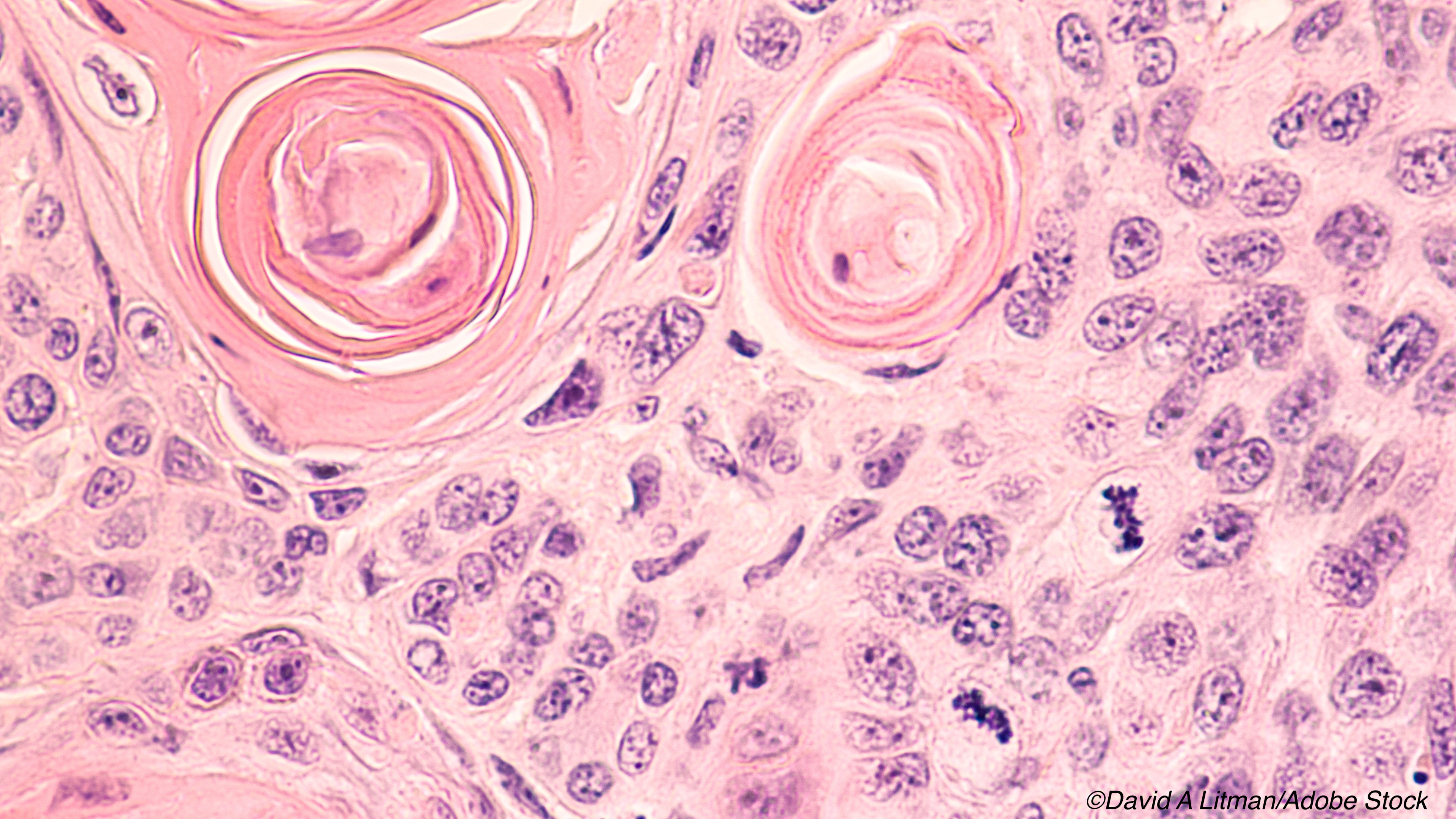 In a phase III trial for patients with advanced anaplastic lymphoma kinase (ALK)-positive non-small-cell lung cancer (NSCLC) who received no previous systemic treatment, lorlatinib more than doubled progression-free survival compared to treatment with crizotinib, researchers report.
"The percentage of patients who were alive without disease progression at 12 months was 78% (95% confidence interval [CI], 70 to 84) in the lorlatinib group and 39% (95% CI, 30 to 48) in the crizotinib group (hazard ratio for disease progression or death, 0.28; 95% CI, 0.19 to 0.41; P<0.001)," Alice T. Shaw, MD, PhD, of Massachusetts General Hospital in Boston, and colleagues wrote in The New England Journal of Medicine.
The objective response rate in the lorlatinib group was 76% versus 58% in the crizotinib group and among those with measurable brain metastases at baseline (38 in the lorlatinib group and 40 in the crizotinib arm). "82% (95% CI, 57 to 96) and 23% (95% CI, 5 to 54), respectively, had an intracranial response, and 71% of the patients who received lorlatinib had an intracranial complete response," based on an interim analysis of data, they wrote.
Lorlatinib is FDA-approved for second- and third-line treatment of ALK-positive, metastatic NSCLC. The drug, a third-generation ALK inhibitor, has previously demonstrated "marked intracranial activity in previously-treated patients with baseline CNS disease, including leptomeningeal disease."
Shaw and colleagues recruited 296 patients at 104 centers in 23 countries and randomized 149 to lorlatinib and 147 to crizotinib, including 5 patients who did not receive treatment but were included in the intent-t0-treat analysis.
"At the time of data cutoff, 103 patients in the lorlatinib group and 31 patients in the crizotinib group were continuing to receive the assigned treatment. The median duration of follow-up for progression-free survival was 18.3 months in the lorlatinib group and 14.8 months in the crizotinib group," they wrote.
When the CROWN trial was conceived in 2017, crizotinib was the standard first-line treatment, but trial results reported since that time provided evidence that second generation ALK-inhibitors — alectinib, brigatinib, and ensartinib — were superior to crizotinib, Shaw and colleagues explained.
"Cross-trial comparisons are inherently limited because of differences in trial designs and trial populations; however, the magnitude of benefit, relative to crizotinib, appears to be at least as large for lorlatinib as for other second-generation inhibitors, all of which have been associated with an approximately 50% lower risk of progression or death than crizotinib," they wrote.
There are several reasons for the observed "marked efficacy of lorlatinib as first-line therapy," the study authors noted. "First, multiple preclinical studies have shown that lorlatinib is more potent in inhibiting ALK than first- or second-generation inhibitors. In addition, lorlatinib retains potency against all known single ALK resistance mutations, including ALK G1202R, which was the most common secondary ALK mutation identified after disease progression in patients who were receiving second-generation inhibitors."
Moreover, "lorlatinib was designed to be a CNS penetrant and has been shown in preclinical and clinical studies to be highly effective in treating CNS metastases," and in the CROWN trial, lorlatinib not only decreased progression of existing CNS lesions, it also appeared to prevent CNS metastases, they added.
In terms of safety, lorlatinib "has a distinct side-effect profile as compared with other ALK inhibitors. In the patients who received lorlatinib, cognitive effects were reported in 21% and mood side effects were reported in 16%, and these side effects were predominantly low grade. As reported previously, cognitive and mood changes typically present within the first 2 months after lorlatinib administration and are managed with dose interruption and reduction. Weight gain, which was commonly reported in patients who received lorlatinib, may be associated with increased appetite. Both weight gain and cognitive and mood changes may be due to off-target inhibition of tropomyosin receptor kinase B in the CNS. Grade 3 or 4 adverse events were more frequent with lorlatinib than with crizotinib (in 72% versus 56%)."
The most common grade 3 or 4 toxicities were related to lipids — elevated LDL or triglycerides — and in both cases these responded to lipid-lowering drugs or modification of lorlatinib dose.
Note this report describes an off-label use of lorlatinib, which is not approved as a first-line therapy.

Be aware that second generation ALK-inhibitors have demonstrated superior efficacy when compared to the first generation ALK-inhibitor, crizotinib.
Peggy Peck, Editor-in-Chief, BreakingMED™
The CROWN trial was funded by Pfizer.
Shaw repored receiving advisory board fees and lecture fees from Blueprint Medicines and Foundation Medicine, advisory board fees from KSQ Therapeutics, grant support, paid to her institution, and consulting fees from Loxo Oncology and Turning Point Therapeutics, consulting fees from Bayer, Natera, Takeda, EMD Serono, Syros Pharmaceuticals, Chugai Pharmaceutical, Achilles Therapeutics, and ArcherDX, grant support, paid to her institution, consulting fees, and lecture fees from Ignyta, grant support, paid to her institution, and advisory board fees from ARIAD Pharmaceuticals, lecture fees from Guardant Health, consulting fees, lecture fees, and advisory board fees from Servier, grant support, paid to her institution, consulting fees, lecture fees, and advisory board fees from Genentech–Roche, and receiving grant support, being employed by, and owning stock in Novartis.
Cat ID: 24
Topic ID: 78,24,24,935,192,65,925