Long-term efficacy is uncertain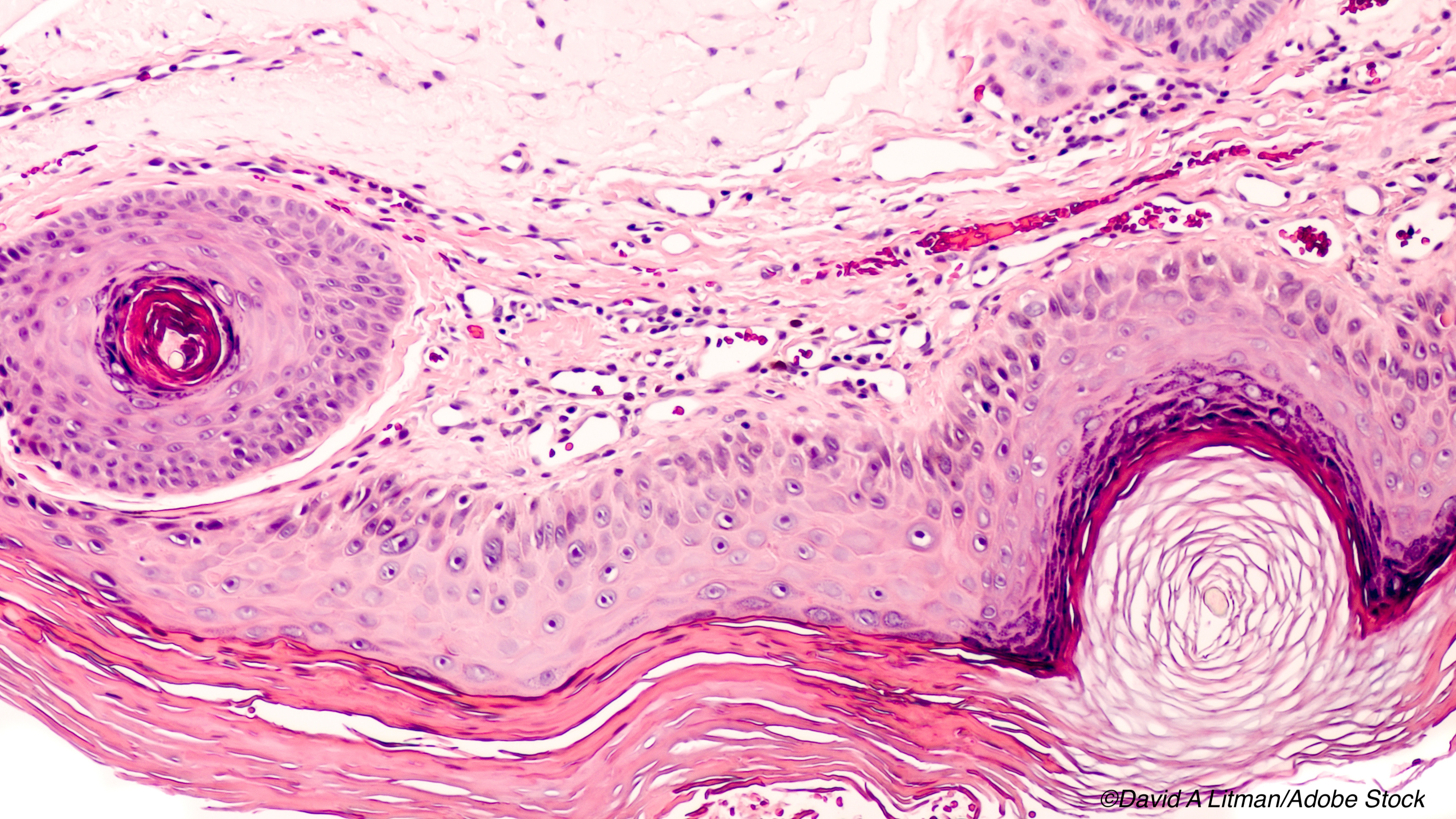 Tirbanibulin ointment appears to be an effective topical treatment for actinic keratosis on the face and scalp in the first months after treatment, according to the results of two phase III clinical trials. However, it is associated with transient local reactions, such as erythema and flaking or scaling, as well as the recurrence of lesions at one year.
Results from the two trials, from Andrew Blauvelt, MD, Oregon Medical Research Center, Portland and colleagues, were reported in The New England Journal of Medicine.
Occurring in sun-damaged skin – particularly the face, scalp, arms, and legs – actinic keratosis is highly prevalent in the United States (approximately 58 million people). And, according to Blauvelt and colleagues, if left untreated, it can progress to invasive cutaneous squamous-cell carcinoma. Thus, treatment of all actinic keratoses is recommended.
Cryosurgery is the typical treatment for individual lesions, while topical agents such as fluorouracil, diclofenac, imiquimod, or ingenol mebutate, and photodynamic therapy are used for multiple lesions and surrounding damaged skin.
However, these methods can be problematic. "These treatments may be associated with local reactions of pain, irritation, erosions, ulcerations, and irreversible skin changes of pigmentation and scarring, and some treatments have to be administered over periods of weeks or months, which may reduce adherence and undermine treatment success," wrote Blauvelt and colleagues.
On the other hand, phase I and II trials of tirbanibulin — a synthetic inhibitor of tubulin polymerization and Src kinase signaling – in ointment form showed that, when applied once daily for three or five days, it cleared actinic keratoses in the arm, face, and scalp, with only mild local irritation.
Here, the authors carried out two identical phase III clinical trials designed to evaluate the efficacy and safety of tirbanibulin 1% ointment compared to a vehicle ointment applied for five days to adults with actinic keratoses on the face or scalp.
A total of 702 patients were enrolled in the trials (351 in each arm). Blauvelt and colleagues found that in the first trial, complete clearance of all lesions at day 57 occurred in 77 of 175 patients in the tirbanibulin group (44%) and 8 of 176 patients (5%) in the vehicle group (difference of 40 percentage points). In the second trial, complete clearance occurred in 97 of 178 patients (54%) in the tirbanibulin group and in 22 of 173 patients (13%) in the vehicle group (difference of 42 percentage points). Across the two trials, complete clearance occurred in 49% of patients in the tirbanibulin groups and 9% patients in the vehicle groups (difference, 41 percentage points).
At the one-year follow-up, the estimated percentage of patients with complete clearance who had recurrent lesions was 47%, while the estimated percentage of patients who had recurrent or new lesions within the tirbanibulin application area was 73%. Thus, estimated sustained, complete clearance was 27%.
The most common local reactions to tirbanibulin were erythema in 91% of patients and flaking or scaling in 82%, although these events were mostly mild or moderate in nature. The authors observed that crusting, swelling, vesiculation or pustulation, and erosion or ulceration occurred less frequently than erythema and flaking or scaling.
"Unlike with most topical treatments for actinic keratosis, severe local reactions, including vesiculation or pustulation and erosion or ulceration, were infrequent with tirbanibulin ointment," noted Blauvelt and colleagues. "This could be due to the relatively short, 5-day course of once-daily treatment."
As for adverse events, the authors found that their incidence and severity were similar in the tirbanibulin and vehicle groups in both trials, with application-site pain (10%), pruritus (9%), and upper respiratory tract infection (4%) the most common among tirbanibulin patients.
"Trials comparing tirbanibulin with conventional treatments and that have longer follow-up are needed to determine the effects of tirbanibulin therapy on actinic keratosis," Blauvelt and colleagues concluded.
They also noted some limitations to the studies. One, local reactions could have tipped off investigators on trial-group assignments, and two, they explained that "the restriction of the application area to a small area on the face or scalp" was another limitation.
Tirbanibulin ointment is effective in treating actinic keratosis two months after treatment, according to the results of two phase III trials.

Note that almost half of patients who achieve complete clearance of lesions have recurrent lesions at one year.
Michael Bassett, Contributing Writer, BreakingMED™
The work was supported by Athenes.
Blauvelt reported receiving consulting fees and lecture fees from AbbVie and consulting fees from Almirall, Arena Pharmaceuticals, Athenex, Boehringer Ingelheim, Bristol Myers Squibb, Dermavant Sciences, Eli Lilly, Forte Biosciences, Galderma Laboratories, Incyte, Janssen Biotech, LEO Pharma, Novartis, Pfizer, Rapt Therapeutics, Regeneron Pharmaceuticals, Sanofi Genzyme, Sun Pharmaceutical Industries, and UCB Pharma.
Cat ID: 105
Topic ID: 75,105,494,730,105,192,255,925