Greater PSA response seen in BRCA2 alterations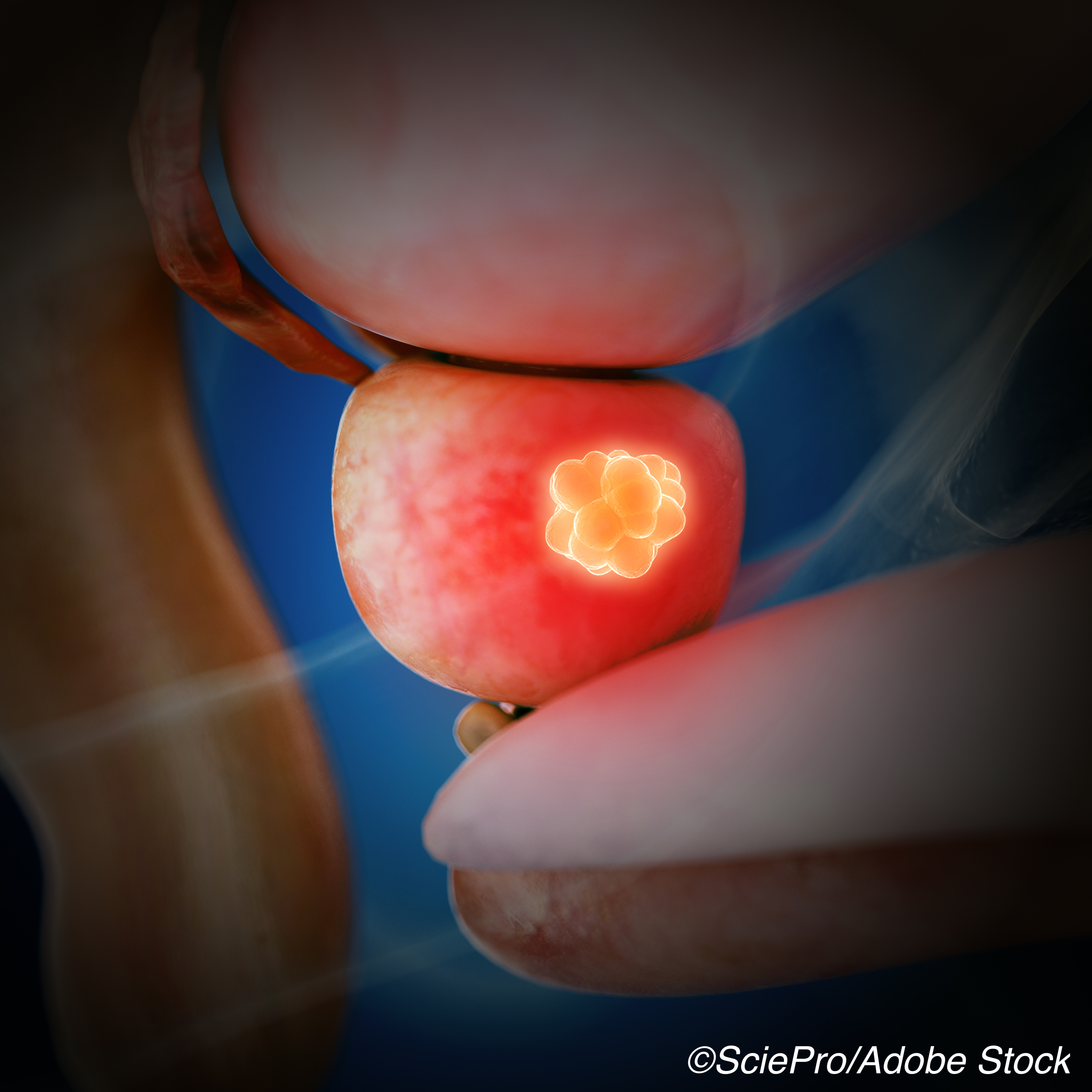 The poly (ADP-ribose) polymerase (PARP) inhibitor rucaparib achieved an objective response rate (ORR) of 43.5% in men with metastatic castration-resistant prostate cancer (mCRPC) who had a BRCA alteration with measurable disease and an ORR of 50.8% in men with BRCA alteration and no measurable disease, according to results of the TRITON2 trial.
Wassim Abida, MD, PhD, of Memorial Sloan Kettering Cancer Center in New York, and colleagues published the efficacy and safety findings in the Journal of Clinical Oncology.
"The confirmed PSA response rate was 54.8% (95% CI, 45.2% to 64.1%; 63 of 115 patients). ORRs were similar for patients with a germline or somatic BRCA alteration and for patients with a BRCA1 or BRCA2 alteration, while a higher PSA response rate was observed in patients with a BRCA2 alteration," they wrote.
The trial recruited men who had disease progression following "one to two lines of next-generation androgen receptor–directed therapy and one taxane-based chemotherapy for mCRPC." The starting rucaparib dose was 600 mg (oral) twice daily, and dose reductions (100 mg or more) were permitted for a grade 3 or greater adverse event (AE) or a persistent grade 2 AE.
Men included in the efficacy and safety analysis (n=115) had "deleterious BRCA alteration" and at least one dose of rucaparib.
"Key efficacy end points were objective response rate (ORR; per RECIST/Prostate Cancer Clinical Trials Working Group 3 in patients with measurable disease as assessed by blinded, independent radiology review and by investigators) and locally assessed prostate-specific antigen (PSA) response (≥ 50% decrease from baseline) rate," they wrote.
In an accompanying editorial, Mark C. Markowski, MD, PhD, and Emmanuel S. Antonarakis, MD, both of Johns Hopkins Medical Institutions, noted that the TRITON2 researchers "enrolled more patients with mCRPC who had BRCA1 and BRCA2 alterations than any other study of PARP inhibitors (including the PROfound study), an impressive feat."
While lauding that accomplishment, Markowski and Antonarakis pointed out that, although the safety profile was "generally favorable," there was a number of adverse events of grade 3 toxicity or greater. For example: "anemia (25%), thrombocytopenia (10%), asthenia or fatigue (9%), increases in hepatic transaminases (5%), and nausea (3%)." Nonetheless, TRITON2 offered the first drill down to rucaparib —or any PARP—activity by "gene mutation (BRCA1 or BRCA2), genetic origin (germline or somatic), zygosity status (monoallelic or biallelic), and mutation type (homozygous deletion or other deleterious mutations). This is the first study to explore the clinical significance of these genomic variables in prostate cancer, so the authors should be congratulated for shedding additional light on and providing new biologic insights into the activity of PARP inhibitors in prostate cancer."
Abida and colleagues acknowledged that more than half of the TRITON2 patients (56.5%) had treatment interrupted due to an AE and 40.9% had dose reductions due to AEs—most often anemia.
"Nine patients (7.8%) discontinued because of a TEAE, one patient each due to acute respiratory distress syndrome; ALT/AST increased; anemia; balance disorder; cardiac failure; decreased appetite, fatigue, and weight decreased; leukopenia and neutropenia; pneumonia; and prolonged QT. There were three deaths as a result of TEAEs, including one each from pneumonia and prolonged QT, both considered unrelated to rucaparib, and one from acute respiratory distress syndrome, considered related to rucaparib by the investigator," they wrote.
Both the duration of response and the radiographic progression-free response, the study authors noted, "were more heavily impacted by censoring. Per the protocol, radiographic assessments were to be continued until disease progression was observed by the investigator. If the investigator reported disease progression on a scan but the blinded [independent radiology review] did not, the patient became censored in the IRR analysis," a methodology that the authors cited as a limitation. Additional limitations included the lack of a control arm and "immaturity of the OS data," they wrote.
An ongoing rucaparib trial, the phase III TRITON3, will define clinical benefit in "an earlier disease setting among patients with mCRPC associated with a BRCA or ATM alteration who have progressed after one next-generation AR-directed therapy and who have not received taxane-based chemotherapy in the mCRPC setting," they noted. "Rucaparib is being compared with physician's choice of next-generation AR-directed therapy or docetaxel and will provide additional evidence of the effects of rucaparib treatment in men with mCRPC."
The editorial writers pointed out that rucaparib generally demonstrated greater efficacy among men, "with germline versus somatic BRCA1/2 mutations (PSA50 response, 61% versus 51%, with similar ORR estimates), in patients with biallelic versus monoallelic mutations (PSA50 response, 75% versus 11%; ORR, 52% versus 50%), and in patients with homozygous deletions versus other deleterious mutations (PSA50 response, 81% versus 49%; ORR, 60% versus 38%). However, what is perhaps most interesting is the potential difference in efficacy of rucaparib in men with BRCA1 compared with BRCA2 mutations.… Moreover, this apparent discrepancy in PARP inhibitor sensitivity between patients with BRCA1- and BRCA2-mutated mCRPC does not seem to be restricted to rucaparib and seems to be a class effect of PARP inhibitors in prostate cancer."
Markowski and Antonarakis concluded that additional studies are need to "gain clearer insights on the potential differential efficacy of PARP inhibitors in prostate cancers with BRCA1 versus BRCA2 mutations and to understand the biologic mechanisms underpinning this phenomenon. At this time, both rucaparib and olaparib are indicated, and should be considered, for the treatment of mCRPC patients with either BRCA1 or BRCA2 mutations. Indeed, the availability of genomically selected therapies for our patients with BRCA1/2- altered advanced prostate cancer represents a welcome addition to our therapeutic armamentarium and is a giant step forward in the management of this disease."
Analysis of findings from the TRITON2 trial suggest that men with mCRPC and a BRCA alteration who receive a PARP-inhibitor may achieve higher objective and prostate- specific antigen response rates than patients observed in trials with other approved therapies.

Note that there may be a potential difference in efficacy of rucaparib in men with BRCA1 compared with BRCA2 mutations, but additional studies are needed.
Peggy Peck, Editor-in-Chief, BreakingMED™
The study was funded by Clovis Oncology; supported in part by the National Cancer Institute (NCI) Cancer Center.
Abida disclosed consulting or advisory roles with Clovix Oncology, Janssen, MORE Health, ORIC Pharmaceuticals, and Daiichi Sankyo; research funding from AstraZeneca, Zenith Epienetics, Clovis Oncology and GlaxoSmithKline (all institutional); and travel grants from GlaxoSmithKline, Clovis Oncology, and ORIC Pharmaceuticals.
Markowski disclosed honoraria from Clovis Oncology and Exelixis.
Antnarakis disclosed honoraria from Sanofi, Dendreon, Medivation, Janssen Biotech, ESSA, Astellas Pharma, Merck, AstraZeneca, Clovis Oncology; consulting or advisory roles at Sanofi, Dendreon, Janssen Biotech, ESSA, Merck, AstraZeneca, Clovis Oncology, Eli Lilly, and Bayer. Research Funding: Janssen Biotech (Inst), Johnson & Johnson (Inst), Sanofi (Inst), Dendreon (Inst), Aragon Pharmaceuticals (Inst), Exelixis (Inst), Millennium Pharmaceuticals (Inst), Genentech (Inst), Novartis (Inst), Astellas Pharma (Inst), Tokai Pharmaceuticals (Inst), Merck (Inst), AstraZeneca (Inst), Clovis Oncology (Inst), Constellation Pharmaceuticals (Inst).
He is co-inventor of a biomarker technology that has been licensed to QIAGEN and received travel grants from Sanofi, Dendreon, and Medivation.
Cat ID: 25
Topic ID: 78,25,730,25,935,192,241,73,925