But evidence too sparse to call for chlamydia and gonorrhea screening in men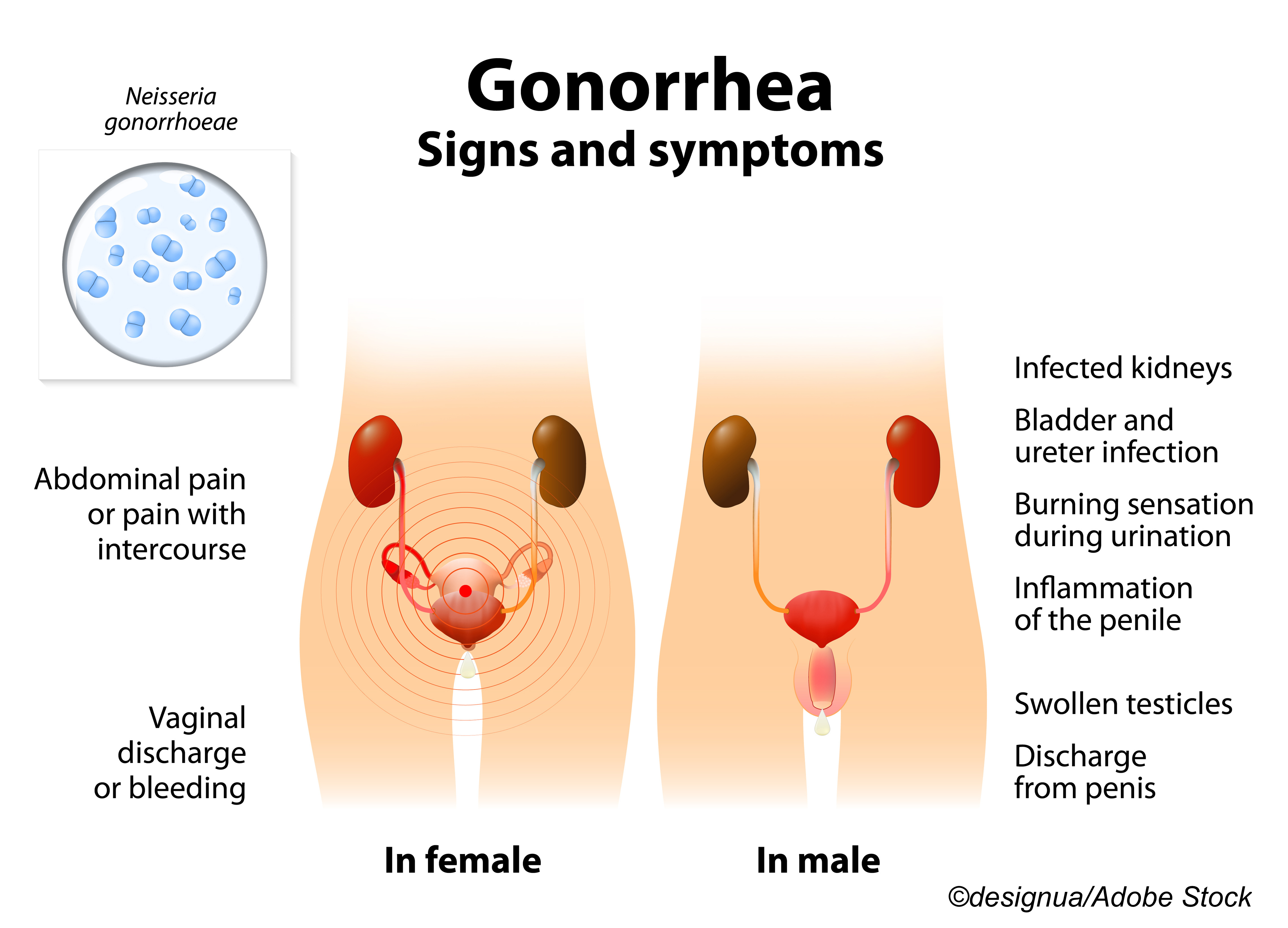 Most sexually active young women should get regularly screened for chlamydia and gonorrhea, although the benefits of screening for men remains uncertain, according to the U.S. Preventive Services Task Force (USPSTF).
The recommendations to screen for both sexually transmitted infections (STI) in all sexually active women ages ≤24 years and in women ages ≥25 who are at increased risk for infection, received "B" grades, while the evidence for screening in men was deemed "I" for insufficient evidence "to assess the balance of benefits and harms of screening for chlamydia and gonorrhea in [sexually active] men," stated Karina W. Davidson, PhD, MASc, of the Feinstein Institutes for Medical Research at Northwell Health, in New York City, and co-authors.
The guidance is an update to the 2014 USPTF recommendations and "applies to asymptomatic, sexually active adolescents [ages ≥15 years] and adults, including pregnant persons," they wrote in JAMA.
In a JAMA Patient Page, Jill Jin, MD, MPH, of Northwestern Medicine in Chicago, pointed out that both STIs "are easily cured with antibiotics," but if left unchecked in women, both "can lead to pelvic inflammatory disease, which can then lead to future pregnancy complications."
In men, complications are less serious, but can include reactive arthritis and Reiter's Syndrome. Jeanne Marrazzo, MD, MPH; Jodie Dionne-Odom, MD, MSPH, both from the University of Alabama, Birmingham, pointed out in an accompanying JAMA editorial that "men who have sex with men (MSM) are experiencing historic high rates of gonorrhea" with most infections occur at "'extragenital' sites'… current guidelines that address men… should consider STI risk conferred while having sex as a man, whether with men, women, or both."
With regard to types of screening tests, the task force backed nucleic acid amplification tests (NAATs) for Chlamydia trachomatis and Neisseria gonorrhoeae infections based on high sensitivity and specificity. NAAT is FDA approved for use on urogenital and extragenital sites, and the same specimen can be used to tests for both STIs.
Davidson's group noted that there was a lack of studies on screening intervals, so "a reasonable approach would be to screen patients whose sexual history reveals new or persistent risk factors since the last negative test result."
The Covid-19 pandemic and STIs in general have made for interesting bedfellows: July 2021 CDC data showed an upswing in reported cases of chlamydia, gonorrhea, and syphilis in the U.S., after a decline in March and April (first pandemic peak). Compared with a dramatic rise in cases in the previous 6 years, the 2020 drop was " striking and anomalous," wrote Melissa Pagaoa, MPH, of the CDC National Center for HIV/AIDS, Viral Hepatitis, STD and TB Prevention in Atlanta, and co-authors in Sexually Transmitted Diseases.
They cautioned that "[w]hile the introduction of vaccines have decreased Covid-19 cases and deaths, the effects of the protracted pandemic may impair our ability to obtain an accurate picture of the STD [sexually transmitted diseases] epidemic in the U.S. beyond 2020."
And an August 2021 study in the Journal of Preventive Medicine concluded that stay-at-home orders early in the pandemic were tied to a 40% decrease in STI testing, although not necessarily in STI prevalence. We've been losing the battle [against STIs] for six years, and Covid made it harder," commented study author Harvey W. Kaufman, MD, of Quest Diagnostics in Short Hills, N.J. "There is a challenge to reengage with patients who have not returned to care," Kaufman told The BodyPro. "The number-one reason they have not returned is fear of exposure to Covid, but it's important that they understand we have protocols to reduce risk."
Study co-author Casey Pinto, PhD, MPH, of Penn State College of Medicine in Hershey, emphasized to American Academy of Family Physicians (AAFP) news that the "quickest way for people to spread STIs is to not know that they have one. The inability to detect asymptomatic cases could have negative repercussions for years to come."
The current task force recommendations are in line with, or form the basis for, those from the AAFP, the American College of Obstetricians and Gynecologists, and the American Academy of Pediatrics.
Chlamydia and gonorrhea rates hit a 20-year high in the U.S. in 2019, and "[w]idespread implementation of routine chlamydia screening over the last 2 decades has coincided with improvement in the epidemiologic trajectory of reproductive health among women as measured by reduced rates of hospitalizations and outpatient visits for PID and ectopic pregnancy," the editorialists wrote.
Adding chlamydia screening to preventive healthcare for young women "helped normalize a conversation around sexual health that had previously been absent," they noted.
But Marrazzo and Dionne-Odom highlighted that the recommendations are grouped into men and women, "based on the evidence that reported screening outcomes by biological sex…rather than gender identity. Concepts of gender identity have changed appreciably in the decades since these guidelines were introduced, and current guidelines should be relevant for individuals who define themselves as female but may be biologically male, and for those who define themselves as male but may be biologically female. These scenarios are not uncommon."
They noted that the USPSTF recommendation does not address screening for transgender and gender-diverse people unlike the updated 2021 CDC STI Treatment Guidelines. However, Davidson and co-authors advised that people "should consider their sex at birth and current anatomy (especially presence of a cervix/vagina) and consult with their own clinician, if necessary, to determine which recommendation best applies to them."
Alexis "Alex" Vosooney, MD, chair of the AAFP Subcommittee on Clinical Recommendations and Policies, stressed to clinicians that when "discussing sexual health, be open and direct with your patients."
"Let them know that when they share information about their sexual practices, it helps their clinician make the best recommendations for their health," she told AAFP news.
For the evidence report, Amy G. Cantor, MD, MPH, of Oregon Health & Science University in Portland, and co-authors, evaluated 27 studies with nearly 180,000 participants.
In a JAMA interview, task force member Martha Kubik, PhD, MSN, of George Washington University in Fairfax, Va., explained that a new element for the evidence review was an evaluation of the "accuracy of risk stratification methods, and screening strategies for identifying persons at increased risk…[the evidence report] looked at several multi-criteria risk-predicted instruments, and what we found was that… age alone performed almost as well as the multi-criteria tools in predicting infection in asymptomatic women with the same rate of sensitivity."
She advised clinicians to note "the importance of considering age, young people between the ages of 15 and 24, to have that at the front of your mind when you are engaging with teens and your young adult patients in regard to sexual health history."
Cantor's group found the following associations for chlamydia screening versus no screening:
Reduced risk of pelvic inflammatory disease (PID).
Reduced hospital-diagnosed PID (0.24% versus 0.38%) for a 0.6 relative risk (95% CI 0.4-1.0).
No reduction for clinic-diagnosed PID or epididymitis.
They also reported that the sensitivity of chlamydial testing was similar at two anatomical sites for women and three for men, and lower for one site:
Endocervical: 89%-100%.
Self-collected and clinician-collected vaginal: 90%-100%.
Meatal: 100%.
Urethral: 99%.
Rectal: 92%.
Pharyngeal in MSM: 69.2%.
"Sensitivity of gonococcal testing was 89% or greater for all anatomical samples," they wrote. "False-positive and false-negative testing rates were low across anatomical sites and collection methods."
Cantor and co-authors said more research was needed on the "clinical significance of asymptomatic extragenital infections and the effectiveness of screening," along with "screening studies evaluating extragenital testing [to] inform strategies for expanded screening in various settings and among target groups or those at increased risk," such as MSM, gender minority, and transgender populations.
The U.S. Preventive Services Task Force recommends screening for chlamydia and gonorrhea in all sexually active women ages ≤24 years and in women ages ≥25 years who are at increased risk for infection.

There is insufficient evidence to assess the balance of benefits and harms of screening for chlamydia and gonorrhea in sexually active men.
Shalmali Pal, Contributing Writer, BreakingMED™
The USPSTF is funded by the Agency for Healthcare Research and Quality (AHRQ). The evidnce report was funded by AHRQ.
USPSTF members reported travel reimbursement and an honorarium for participating in USPSTF meetings.
Marrazzo reported no relationships relevant to the contents of this paper to disclose. Dionne-Odom reported funding from the NIH.
Cantor reported no relationships relevant to the contents of this paper to disclose.. A co-author reported relationships with, and/or support from Insmed, Paratek, RedHill, and Spero.
Jin reported serving as JAMA associate editor.
Cat ID: 190
Topic ID: 79,190,730,190,28,178,192,151,241,925