Efficacy was not seen in overweight individuals or those with obesity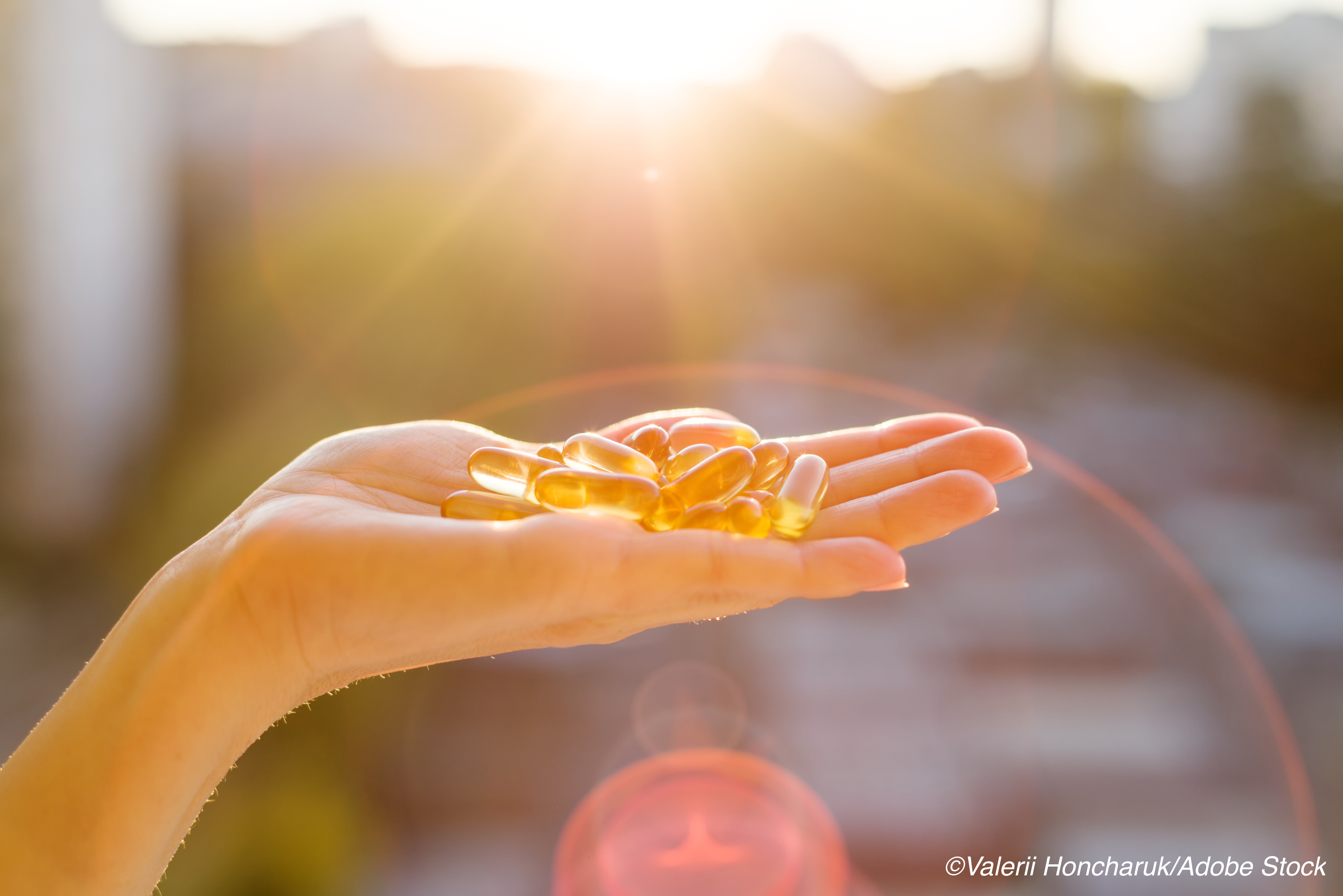 High-dose vitamin D supplementation taken daily for approximately 5 years reduced the incidence of metastatic or fatal cancer in adults who did not have cancer on study enrollment, but its efficacy was only seen among those with a normal body mass index (BMI) and not in overweight individuals or those with obesity, a secondary analysis of the Vitamin D and Omega-3 Trial (VITAL) found.
The randomized trial involved 25,871 patients with no significant difference between patients randomized to vitamin D3 and marine omega-3 fatty acids and those who received placebo over a median study interval of 5.3 years (range, 3.8-6.1 years), Paulette Chandler, MD, MPH, Harvard Medical School, Boston, Massachusetts, and colleagues wrote in JAMA Network Open.
However, among patients with a normal BMI of less than 25 kg/m2, the risk of metastatic or fatal cancer was 38% lower among vitamin D recipients compared with placebo controls at a Hazard Ratio (HR) of 0.62 (95% CI, 0.45-0.86). The same protective effect was not seen among participants who were either overweight at a BMI of 25 to <30 kg/m2 at a HR, 0.89 (95% CI, 0.68-1.17) or those with obesity at a BMI of 30 kg/m2 or more at a HR of 1.05 (95% CI, 0.74-1.49).
"Our findings are not due to one particular cancer, because a broad mix of cancers contributed [to this outcome]," Chandler and colleagues wrote. "Our findings [therefore] suggest that vitamin D supplementation may be operating through a general, rather than a site-specific, mechanism to reduce the risk of advanced cancer."
The VITAL Study
The VITAL study was originally designed to evaluate the benefits and the risks of vitamin D3 supplementation in the form of cholecalciferol, 2000 IU/day and marine omega-3 fatty acids, 1 gram per day, for the primary prevention of both cancer and cardiovascular disease (CVD) in men 50 years of age and older and women 55 years of age and older.
Approximately half of the participants were female with a mean age of 67.1 years and a mean baseline BMI of 28.1 kg/m2.
The primary end point of the current analysis was the composite rate of metastatic or fatal cancer between treatment groups, but a secondary outcome included an evaluation of the effect that BMI had on the composite endpoint.
"There was no association of omega-3 fatty acid supplementation with advanced cancer," the authors reported.
In contrast, the risk of metastatic or fatal cancer was lower at 1.7% in the vitamin D3 supplement arm compared with 2.1% in the placebo arm at a HR of 0.83 (95% CI, 0.69-0.99; P=0.04), they added. However, when stratified by BMI, the reduction in metastatic or fatal cancer was only significant among participants with a normal BMI, researchers emphasized.
In contrast, race did not affect study endpoints as non-Hispanic white participants as well as black participants assigned to vitamin D3 had a similar risk reduction for total metastatic cancer and cancer mortality compared with placebo. Nor did serum levels of 25-hydroxyvitamin D levels at baseline or on treatment have any significant effect on the rate of metastatic or fatal cancer outcomes.
As the authors pointed out, a recent meta-analysis of randomized clinical trials found that participants who took vitamin D supplements for at least 3 years had a 13% lower risk of dying from cancer compared with placebo controls (P=0.005). Another meta-analysis of vitamin D studies showed that vitamin D3 supplements reduced the risk of dying from cancer by 16% compared with participants who took vitamin D2 supplements.
"Vitamin D receptors are widely expressed throughout the body and experimental evidence suggests that vitamin D has antineoplastic activity," Chandler and colleagues noted. "Our findings along with previous randomized trials support the ongoing evaluation of vitamin D supplementation for metastatic cancer," they stated.
Fat-Soluble Vitamin
Commenting on the VITAL findings, Lina Zgaga, PhD, Trinity College Dublin, The University of Dublin, Ireland, suggested that the protective effect from vitamin D3 supplementation seen only in participants with a normal BMI was most likely due to the simple volumetric dilution of what is a fat-soluble vitamin in fat tissue.
"It [therefore] seems sensible to wonder whether overweight individuals would benefit from a higher dose of vitamin D," she suggested.
However, Zgaga also cautioned that randomized controlled trials (RCTs) cannot account for whatever heterogeneity there is from a given treatment's effects and noted, "In an RCT, only group effects are observed, and then compared: if half of the treatment group improves but the other half deteriorates, the treatment will be assumed to have no effect."
Zgaga also pointed out that the relationship between vitamin D supplementation and vitamin D status is less closely correlated than is comfortable to acknowledge.
"Substantial variation in the increase of 25-hydroxyvitamin D (the best marker of vitamin D status) after administration of the same vitamin D dose has been well documented," she wrote. "It is hard to predict how much 25-hydroxyvitamin D concentration will change in a given individual after supplementation; however, the increase is typically less in overweight individuals."
Overall, Zgaga wrote that findings from the current study support the role of vitamin D in cancer prevention. Nevertheless, she still argued that large differences in vitamin D status can be found among any group of individuals.
"Body mass index, in addition to a range of personal, lifestyle, behavioral, environmental, dietary and genetic factors, affect vitamin D status and these together drive the heterogeneity of treatment effects primarily by determining baseline levels and the 25-hydroxyvitamin D response to supplementation," she wrote. She also called for the consideration of "a study design that can accommodate heterogeneity of treatment effects without compromising the strength of the evidence."
Daily vitamin D3 supplementation reduced the incidence of advanced cancers across a mean follow-up of 5.3 years but only in those with a normal BMI and not in those who were overweight or obese.

The reduction in a broad range of advanced cancers seen with vitamin D3 supplementation suggests that vitamin D3 may be operating through a general rather than a site-specific mechanism.
Pam Harrison, Contributing Writer, BreakingMED™
The VITAL study was supported by a grant from the National Cancer Institute, the National Heart, Lung and Blood Institute: Office of Dietary Supplements, among others.
Chandler had no conflicts of interest to declare.
Zgaga had no conflicts of interest to disclose.
Cat ID: 118
Topic ID: 78,118,118,120,935,192,925