California's Camp Fire associated with increased health care use for atopic dermatitis, itch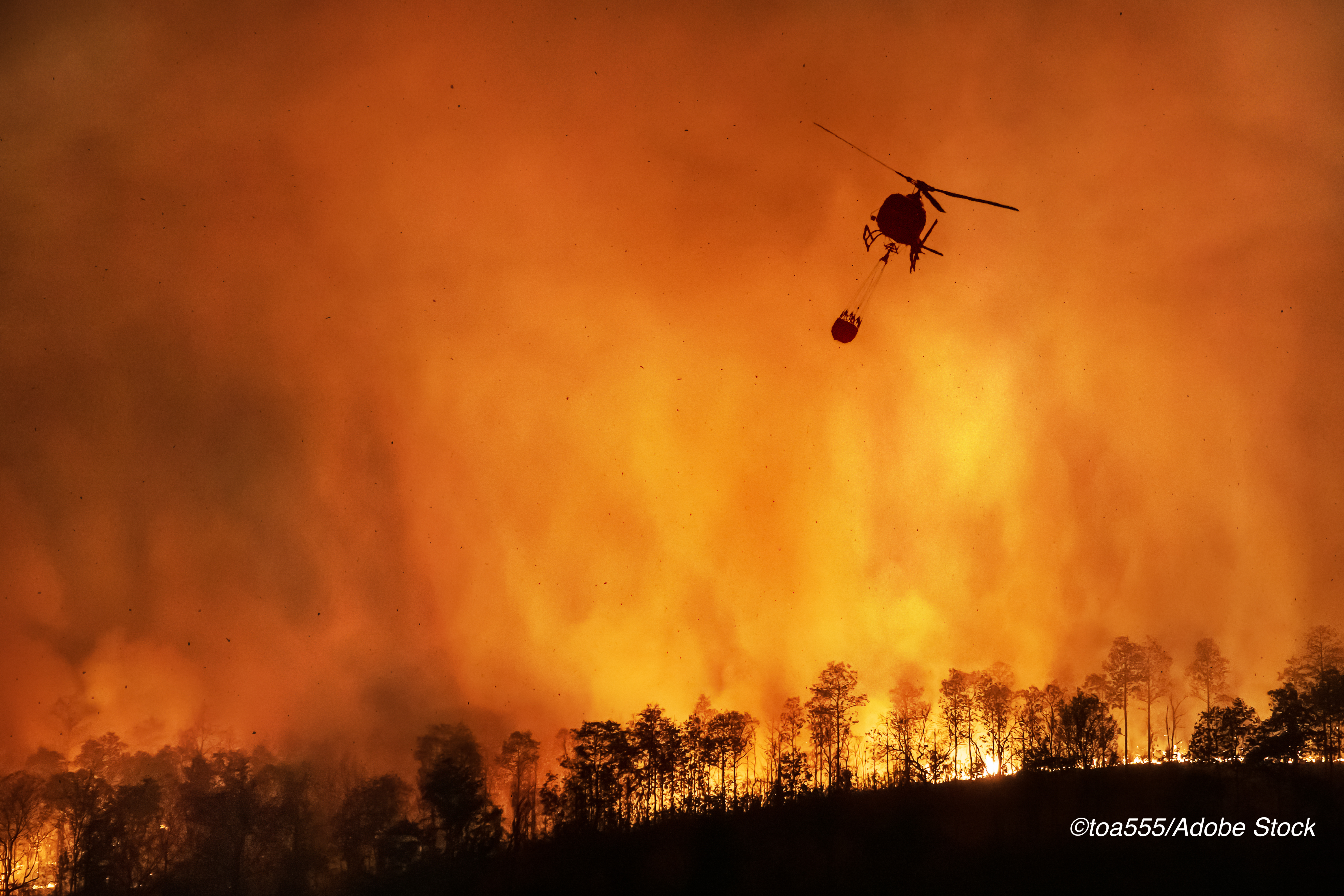 Short-term exposure to wildfire-associated air pollution during the 2018 Camp Fire in California was associated with an uptick in dermatologic health care visits for atopic dermatitis (AD) and itch, researchers found.
While some previous studies have identified a positive association between chronic air pollution and the incidence of AD, the impact of acute, short-term exposure to ambient particulate matter less than 2.5 μm in diameter (PM2.5) due to wildfires in the western U.S. in recent years was "a previously unexplored consequence of climate change," Maria L. Wei, MD, PhD, of the Department of Dermatology at the University of California, San Francisco, and colleagues explained in JAMA Dermatology.
Wei and colleagues conducted a cross-sectional time-series study to assess the short-term impact of wildfire-associated air pollution, hypothesizing that acute exposure would lead to increased dermatology clinic visits for AD and itch in the San Francisco area—the study authors centered their analysis on the 2018 California Camp Fire, explaining that the wildfire "posed a unique opportunity to test this hypothesis, since particulate matter generated by the fire caused a significant spike in air pollution concentrations for two weeks in San Francisco, California, located 175 miles from the site of the wildfire."
Wei and colleagues found that "wildfire-associated air pollution was significantly associated with increased rates of weekly visits for AD for pediatric and adult patients at an academic medical center's dermatology clinics located 175 miles from the fire, adjusting for temperature, relative humidity, patient volume, and patient age. In addition, wild-fire smoke exposure was associated with a significantly increased rate of clinic visits for itch among pediatric patients and rate of prescribed systemic medications for treatment of adult patients. Overall, our findings indicated that both pediatric and adult patients experienced exacerbations of AD and itch symptoms, as measured by health care use rates, in association with short-term exposure to increased air pollution."
The study authors added that their results "highlight an association between air quality and skin health, which may assist clinicians and public health practitioners to better understand the prevention and treatment of cutaneous diseases and the associated health care use rates."
The acute increase of fine particulate matter—particularly PM2.5—in the wake of these fires is a serious health concern, Kenneth W. Kizer, MD, MPH, of Atlas Research LLC in Washington, DC, explained in an editorial accompanying the study.
"Fine PM can cause health effects at very low concentrations, and no threshold has been identified below which there is no health concern," he wrote. And, worryingly, wildfire smoke has become the source of as much as half of the PM2.5 air pollution in the western U.S. and up to 25% nationwide, he added.
While Kizer applauded the study by Wei et al for its contribution to the clinical understanding of health outcomes linked to wildfires and its strengthening of the correlation between air pollution and AD, he noted that their results need to be contextualized in at least two ways.
First, Kizer noted that limiting their analysis to dermatology clinics in a single area and focusing exclusively on AD and itch likely excluded patients with other wildfire-associated dermatologic morbidity who may have presented to primary care clinics.
"Given the millions of Californians who were exposed to the Camp Fire's drifting smoke and the population prevalence of atopic dermatitis (as high as 20% in children and 10% in adults) and extrapolating from the increased incidence of atopic dermatitis and itch reported by [Wei] et al, it is likely that many thousands of people developed smoke-related skin health problems," he wrote.
Second, Kizer argued that the study's generalizability is likely limited due to "the heterogenous and dynamic nature of wildfire smoke." The composition of wildfire smoke depends on several factors, including weather, what is burned, and the temperature or intensity of the fire, all of which can vary by location and change over the course of the fire— and, he added, since wildfires often burn homes, cars, and other man-made materials, the smoke may contain toxins from various manufactured structures that will vary between fires.
Wei and colleagues listed both of these points as limitations to their study.
For their analysis, Wei and colleagues compiled environmental data for San Francisco and clinical data for patients seen at University of California, San Francisco dermatology clinics for the 18 weeks before, during, and after the Camp Fire, October 2018 through February 2019, as well as corresponding dates from previous years when there were no large wildfires in the area (October 2015-February 2016 and October 2016-February 2017). Participants included pediatric and adult patients presenting to the dermatology clinic with AD or itch—patients were excluded if they resided outside of San Francisco.
Wildfire-associated air pollution was characterized by fire status, concentration of PM2.5, and satellite-based smoke plume density scores, and the study authors constructed lagged versions of each exposure metric to account for delayed effects due to slow symptom onset, waiting to seek care, or difficulty getting an appointment—lag 0 represented exposure in a given week, while lag 1 represented exposure during a given week plus the previous week, and so on. The primary outcomes were weekly clinic visits for AD or itch, while secondary outcomes were weekly numbers of topical and systemic medications prescribed for AD in adults—medication data for pediatric AD patients were excluded due to low numbers. The final analysis consisted of 8,049 dermatology clinic visits corresponding to 4,147 patients (mean [SD] age, 44.6 [21.1] years; 2,322 [56%] female).
The study authors found that the Camp Fire—which lasted from Nov. 8-25, 2018—caused a 9-fold increase in average weekly PM2.5 in San Francisco from Nov. 8-21.
Among the findings:
AD visits: Adjusted rate ratio (ARR) 1.49 (95% CI, 1.07-2.07) for pediatric patients and 1.15 (95% CI, 1.02-1.30) for adults compared to nonfire weeks.
Itch clinic visits: ARR 1.82 (95% CI, 1.20-2.78) for pediatric patients and 1.29 (95% CI, 0.96-1.75) for adults compared to nonfire weeks.
"A 10-μg/m3 increase in weekly mean PM2.5 concentration was associated with a 7.7% (95% CI, 1.9%-13.7%) increase in weekly pediatric itch clinic visits."
"The adjusted rate ratio for prescribed systemic medications in adults during the Camp Fire at lag 0 was 1.45 (95% CI, 1.03-2.05)."
The study authors noted that rate ratios were highest at exposure lags 0-2, "consistent with short-term exposure to air pollution being associated with rapid effects on the rates of weekly clinic visits and prescribed medications."
Interestingly, while itch is a key symptom of AD, Wei and colleagues observed that most of the adult patients seen for itch during the Camp Fire were not previously diagnosed with AD, suggesting either that air pollution exposure impacts the skin health of a wider range of patients than those diagnosed with AD or that these patients had undiagnosed subclinical AD.
In his editorial, Kizer noted that continuing climate change will likely continue to exacerbate this problem, "it should be expected that the health care burden of atopic dermatitis and other air pollution-sensitive skin diseases will grow substantially in the coming years. Improved pharmacologic treatments and other interventions for these conditions will be helpful in addressing this growing problem, but more effective policies and practices to mitigate climate change and reduce wildfires will be even more helpful."
The 2018 Camp Fire in California was associated with an increase in dermatologic health care visits for patients with atopic dermatitis (AD) and itch in San Francisco.

These results highlight an association between acute, short-term exposure to wildfire-associated air pollution and skin health.
John McKenna, Associate Editor, BreakingMED™
Study first author Fadadu reported grants from Alameda Contra-Costa Medical Association, UCSF Summer Explore Fellowship, and grants from UC Berkeley–UCSF Joint Medical Program during the conduct of the study. Coauthor Abuabara reported personal fees from Target RWE Consultant for design of an observational cohort study on atopic dermatitis and grants from Pfizer during the conduct of the study.
Kizer had no relevant relationships to disclose.
Cat ID: 105
Topic ID: 75,105,730,105,449,192,923,925