Oncology dominates calendar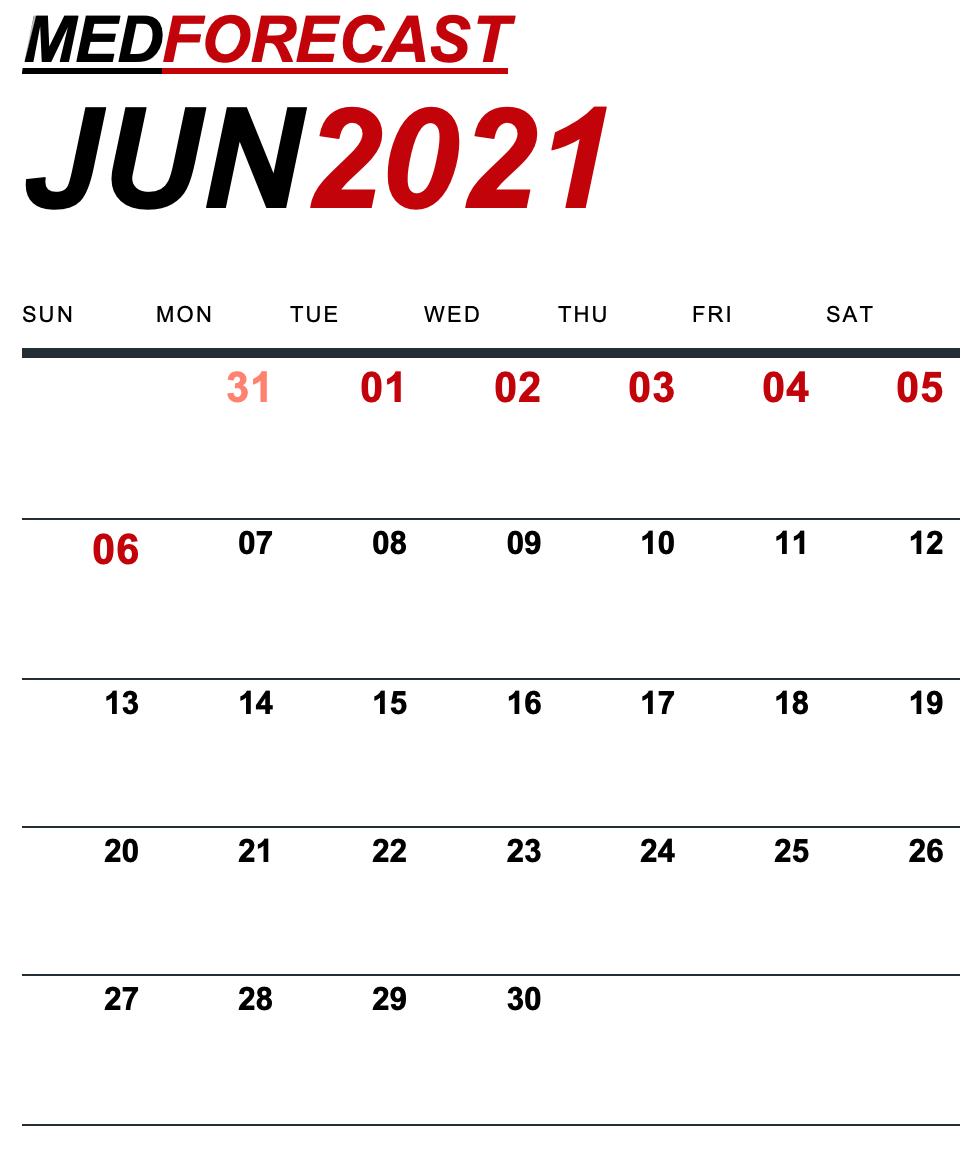 Lynne Peterson is the Senior Writer for Trends-in-Medicine.
Here is the medical news to watch for May 31-June 6, 2021, and it is likely to be dominated by oncology.
Gynecology: The FDA is expected to make a decision by June 1 on a new treatment for vulvovaginal candidiasis, Scynexis' Brexafemme (ibrexafungerp), a glucan synthase inhibitor.
Nephrology: The European Renal Association/European Dialysis and Transplant Association (ERA-EDTA) meeting will take place virtually June 5-8. You'll find everything kidney related here, from hypertension to vasculitis, kidney transplantation to chronic kidney disease, nephropathology to vascular access, controversies in diagnostics to peritoneal dialysis, and much more.
Neurology
The FDA's Neurological Devices Advisory Committee will meet virtually for two days June 3-4 to consider reclassification of a number of devices from unclassified status to either Class I or II – things like topical refrigerants, acupressure devices, optical contour sensing devices, and more.
The American Headache Society (AHS) meeting will take place virtually June 3-6. Learn more about CGRP antibodies, non-opioid/non-addictive painkillers in development, gender differences in pain, diet and migraine – basically everything and anything migraine. Among the data to be presented are:

The Phase III INTERCEPT trial of Axsome Therapeutics' AXS-07 (meloxicam + rizatriptan) in acute migraine.
A Phase II trial of fremanezumab (Teva's Ajovy), a subcutaneous CGRP receptor antagonist, in post-traumatic headache in adults.
The Phase III ADVANCE trial of AbbVie's atogepant (an oral investigational CGRP receptor antagonist) as a preventive treatment for migraine.
A postmarketing study of the risk of hypertension in patients taking erenumab (Amgen and Novartis' Aimovig), an injectable CGRP receptor antagonist for migraine.
A Phase II/III trial of intranasal zavegepant (Biohaven Pharmaceuticals), a third generation CGRP receptor antagonist, in acute treatment of migraine.
Oncology:
The FDA is expected to make a decision by June 1 about BridgeBio Pharma's infigratinib (BGJ-398), a selective FGFR1-3 inhibitor, to treat cholangiocarcinoma.
The American Society of Clinical Oncology (ASCO) meeting June 4-8 is virtual again this year. There is so much – an overwhelming amount of – data being presented. Among the Phase III trials being presented are:

Immunocore's tebentafusp (IMCgp100), a bispecific fusion protein, in unresectable/metastatic uveal melanoma.
FOCUS trial of Delcath Systems' melphalan/HDS in liver-dominated ocular melanoma.
Trial 106 of BeyondSpring's plinabulin + TAC (docetaxel, doxorubicin, and cyclophosphamide) in chemotherapy-induced neutropenia (CIN).
BeiGene and Novartis' tislelizumab, an anti-PD-1, in esophageal squamous cell carcinoma.
Coherus Biosciences' toripalimab, an anti-PD-1, for nasopharyngeal carcinoma.
Psychiatry:
The American Society of Clinical Psychopharmacology ASCP (formerly NCDEU) meeting will take place virtually June 1-4. Regulators, industry, and researchers will discuss key aspects of neuropsychiatric drug development, including the impact of diagnostic changes and personalized interventions based on biomarkers or genetic information.
The FDA is expected to make a decision by June 1 on an oral antipsychotic – Alkermes' ALKS-3831 (olanzapine + samidorphan) – to treat adults with schizophrenia or bipolar I disorder.
Rare diseases: The FDA is expected to make a decision by June 5 on Liminal BioSciences' Ryplazim (plasminogen) to treat clinical signs and symptoms associated with congenital plasminogen deficiency (C-PLGD).
Rheumatology: The European Congress of Rheumatology (EULAR) will take place virtually June 2-5. Besides deep dives in rheumatoid arthritis and osteoarthritis, the meeting will offer research and news on systemic lupus erythematosus (SLE), gout, Sjögren's, spondyloarthritis, fibromyalgia, Lyme disease, and much more.
Lynne Peterson, Contributing Writer, Senior Writer for Trends-in-Medicine
Cat ID: 725
Topic ID: 88,725,730,122,935,471,130,35,191,192,146,54,725,158,528,172,527